Photo Gallery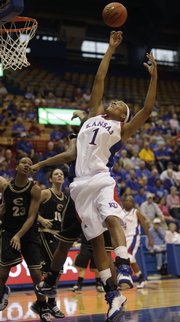 KU women's basketball vs. Emporia State
Those weren't your older sister's Jayhawks on the Allen Fieldhouse floor.
This Kansas University women's basketball team is clearly better than two years ago … at least if you compare exhibition games against Emporia State.
In November of 2007, KU needed 36 points from Danielle McCray and an overtime to subdue the Hornets, a traditional NCAA Div. II power.
Sunday, McCray played just 20 minutes as coach Bonnie Henrickson cleared the bench in the Jayhawks' 85-48 romp.
"They're definitely a lot better," said ESU guard Cassondra Boston, who had scored 29 points in that '07 contest. "They play together, and they run really well."
On the flip side, this Emporia State team wasn't at full strength. One of the regulars is playing volleyball, and a couple of other Hornets are injured and didn't play.
Henrickson noted those E-State absentees when asked to make a comparison.
"I think we're better," the KU coach said. "But I don't think it's that kind of discrepancy."
Maybe the Jayhawks aren't 37 points better than an E-State team with a full complement of players, but they were clicking on just about every cylinder Sunday — much like they were in last Sunday's 86-56 victory over Pittsburg State, another MIAA team.
The difference is obvious.
"This year we're more athletic," McCray said. "We run more in transition. And we have Angel (Goodrich). Two years ago, we did a lot of half-court stuff."
Speaking of Goodrich, the red-shirt freshman point guard, who had 10 assists in 18 minutes against Pitt State, contributed seven more in a 24-minute stint Sunday.
"Angel made some beautiful passes," Henrickson said. "A couple of players need to take her out to dinner, and they know who they are."
Henrickson didn't name names, but she was no doubt referring to 6-foot-5 Krysten Boogaard and 6-2 Aishah Sutherland, who finished with 17 and 12 points, respectively, thanks in large part of Goodrich's post passes.
"I thought it was important for us to go inside early and often," Henrickson said, "and I thought Krysten established an inside game."
Again, however, it should be pointed out that E-State's two post players stand 6-2 and 5-10.
"We're not very big," the Hornets' Boston said, "and they had a lot of height."
Boogaard and Sutherland were also in double-figures in rebounds, with 10 apiece.
Perhaps the biggest improvement from last week's exhibition game to Sunday's final preseason test was the improvement of the bench, notably freshman Monica Engelman, who scored 10 points, and juco transfer Rhea Codio, who contributed four points and four points in 14 minutes.
"Rhea played a little bit slower today," Henrickson said. "Monica shot better, but she's still rushing her shot a little bit."
Kansas' regular-season opener will be at 2 p.m. Sunday against Oral Roberts. Three days later, KU will travel to Iowa before returning home to meet Michigan, also on a Sunday.
"We have to go right out of the gate in a hurry," Henrickson said.
Notes: Henrickson played everyone except senior forward Porscha Weddington, who is out because of mono. … ESU's Boston finished with a team-high 15 points, but she also was charged with four of the Hornets' 24 turnovers. …KU outrebounded ESU, 51-30. … KU blew this one open by outscoring the Hornets, 30-7, during the last 11 minutes of the first half.
Copyright 2017 The Lawrence Journal-World. All rights reserved. This material may not be published, broadcast, rewritten or redistributed. We strive to uphold our values for every story published.