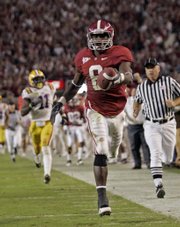 Tuscaloosa, Ala. — Julio Jones left defenders grasping at his heels, and Alabama's defense was typically immovable. The Crimson Tide is riding that combination to the SEC championship game for the second consecutive season.
The popular Jones made the biggest play of what has been a relatively quiet sophomore season, breaking free for a 73-yard touchdown in the fourth quarter, and No. 3 Alabama locked down No. 9 LSU in a 24-15 victory Saturday.
Leigh Tiffin booted a 40-yard field goal with 3:04 left to seal it and the Tide (9-0, 6-0 SEC) earned a rematch with No. 1 Florida for the league championship.
The hard-hitting affair left the Tigers (7-2, 4-2) without injured quarterback Jordan Jefferson and running back Charles Scott for most of the second half.
"It was a tough, physical game," said Alabama coach Nick Saban, who beat his former team for the second straight year. "Man, those games are fun to be a part of."
The win touched off another big celebration for Alabama, which survived a 12-10 victory over Tennessee two weeks ago with Terrence Cody's two blocked field goal attempts in the fourth quarter. Tiffin came up big in that one, too, with four field goals.
Jefferson had an ankle injury and Scott hurt his right shoulder in the third.
LSU coach Les Miles, who said Scott's injury was probably the more serious, didn't shed much light on their status.
On Jefferson, Miles said the quarterback was "trying to get back in the game. We felt like it would be best that he sit."
"I still like our chances, injuries or not. No excuses," he added.
LSU would have taken control of the West. The Tigers, whose only other loss came to the Gators, took a 15-10 lead into the fourth but managed only nine yards in the quarter. They had won four straight at Bryant-Denny Stadium.
Once again, though, LSU is left taking a backseat to its former coach.
Saban & Co. moved a step closer to their second straight perfect regular season. The Tide outgained LSU 452-253, and narrowed the number of SEC national championship contenders to two.
Alabama is 9-0 for a second consecutive season, which hasn't happened since 1973-74 under Bear Bryant.
Greg McElroy completed 19 of 34 passes for 276 yards with two touchdowns and an interception as the Tide aired it out 25 times in the first half against a defense that was putting extra defenders near the line.
Copyright 2018 The Associated Press. All rights reserved. This material may not be published, broadcast, rewritten or redistributed. We strive to uphold our values for every story published.