Photo Gallery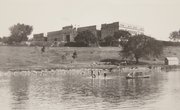 Potter Lake
Kansas University scientists who travel all over the state gathering data on lakes stayed home on Wednesday conducting research in their backyard.
What they found was enough silt in Potter Lake to fill roughly 600 dump trucks with mud.
A group from the Kansas Biological Survey took soil samples at Potter Lake to determine how much it would cost to dredge the aging pond.
"That's an awful lot of silt, considering we have a fairly small watershed here," said Mark Jakubauskas, a research associate professor at the Kansas Biological Survey.
A campus treasure, Potter Lake once hosted canoe races and had diving platforms. In the 1950s, it was drained and dredged. Over the past half century, runoff has washed into the lake, filling it with sediment, nutrients and plant life.
This summer, the lake's health was at a crisis point. Heavy rainfalls led to a burst in plant growth, which sucked oxygen from the water. As a result, hundreds of fish died.
This fall, student groups joined together to make improvements — scooping out 8 tons of coontail one pitchfork at a time. They also added aerators to increase the lake's oxygen levels.
It's time to dredge the lake again, said Jerry deNoyelles, deputy director of the Kansas Biological Survey.
"It is probably the only long-term solution that there is," he said.
It was a solution that had the scientists building a wooden ramp Wednesday to launch a 24-foot pontoon boat into the one-and-a-half-acre lake.
"We're in. We are not coming out," deNoyelles joked as the boat glided into the water.
By using a 15-foot drilling rig called a vibracore — a kind of giant metal straw with a motor on top — the scientists were able to push through the silt to reach the original bottom of the lake and then pull the sediment up in a tube.
More than a half-dozen of these core sediment samples were taken. By noon, the group had enough data to estimate the lake had an average of two feet of sediment on the bottom — a total of 5,000 cubic yards of silt.
Previous student groups have estimated it would cost between $50,000 and $100,000 to dredge the lake.
Along with helping establish the cost of dredging, Wednesday's sediment collection will be sent to labs to be analyzed. That information will help determine what dredging methods will work best.
And, just in case any former KU students were wondering, the group hadn't come across any lost car keys, term papers or textbooks. So far, the scientists have pulled up only mud.
Copyright 2018 The Lawrence Journal-World. All rights reserved. This material may not be published, broadcast, rewritten or redistributed. We strive to uphold our values for every story published.