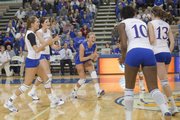 Kansas University's volleyball team looked primed to beat a ranked opponent for the first time since November of 2007 early Saturday night in Horejsi Center.
The Jayhawks (12-10, 4-8) drilled No. 25-rated Texas A&M;, 25-23, in the first set, before dropping the next three, 25-22, 25-22, 25-15.
"It's a disappointing loss. This was a huge opportunity for us. They're ranked. It would have been a good win," KU junior hitter Karina Garlington said after an 11-kill performance.
"It's just disappointing we couldn't pull it out and get some momentum (for) the rest of the season."
It was reminiscent of an Oct. 24 home match against Missouri, in which the Jayhawks won the first set, only to lose, 3-1.
"We have to have a little better result after we get down two games to one. That's probably the biggest disappointment — that we didn't fight a little harder to start game four," said KU coach Ray Bechard, who had a lengthy talk with his team after the setback.
"We talked about, 'OK, two games to one, how about getting a team to a fifth game at our place?' We had that issue with Missouri and had that issue tonight. Hopefully the next opportunity around, No. 1 you don't get down two games to one, but you respond a little better in game four if that happens."
A&M; (14-6, 7-5) rolled to leads of 8-2 and 12-4 in the final set.
"I thought it was an opportunity we let go. This is our gym. We should have had a bigger fight against them. We didn't do it," said sophomore setter Nicole Tate, who had 45 assists, 10 digs and eight kills.
"It was a big disappointment," she added of game four. It felt like nothing was clicking."
Allison Mayfield had a career-high 20 kills, while Melissa Grieb had 20 digs, Melissa Manda nine digs and Brittany Williams eight kills.
Sarah Ammerman had 21 kills and 14 digs, Mary Batis 12 kills and Jennifer Banse 10 kills and 15 digs for the Aggies.
The Jayhawks will travel to Colorado on Wednesday and Oklahoma on Saturday.
"We are definitely in a frantic position now. We have eight matches left. We need to start cranking out some wins," Tate said.
Copyright 2018 The Lawrence Journal-World. All rights reserved. This material may not be published, broadcast, rewritten or redistributed. We strive to uphold our values for every story published.