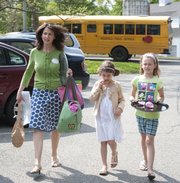 New York — As a single working mom, Elizabeth Capdevila has to make sure her 8-year-old daughter has a place to go all day, every day, in the summer.
But with day camps' hours running shorter than her work day, the Littleton, Colo., resident is finding that it isn't easy.
"They really gear the camps toward assuming there is a parent that's not working, which is unfortunate," says Capdevila, 44, who works full-time at an accounting firm.
Many parents are finding that camp hours don't mesh well with their work schedules, especially as the economy forces them to work longer hours or take on second jobs to make ends meet. So they're forced to get creative, coordinating with other parents on dropoffs and pick-ups, hiring baby sitters for after-camp care or taking days off from work here and there.
All that doesn't come cheap — day camps range from $90 to $455 a week, according to the American Camp Association, and some parents must also hire baby sitters to fill the extra hours.
"The camps are kind of pricey to begin with. To take on extra costs, it can become quite costly," says Connie Marsala, 41, of Ridgefield, Conn., who is sending her two daughters to day camp and considering several options to fill the gaps, including hiring a sitter, asking her mother to watch them or alternating days off with her husband.
Her neighbor, Amy Bertolino, starts mapping out her kids' camp schedule in January.
One summer, she had a spreadsheet to keep track of who was picking up and dropping off a group of girls for a camp that ended at 3 p.m. She vowed never to do that again, but she says teaming up with other working parents is a good idea.
This summer, Bertolino, 39, considered a soccer camp, but she ruled it out once she found out that if it rains — no camp.
Adding to the stress is that camps generally last eight weeks, which is shorter than school summer breaks, in part because college-age counselors go back to school. Some parents schedule vacation for the weeks when there is no camp — at the beginning and end of summer — or arrange for their kids to visit relatives or stay with a sitter.
Working parents face a similar dilemma during the school year: Who is going to take care of the kids after school? But summer is more challenging because children may go to multiple camps with varying hours, says Patty Fisher of MomsLikeMe.com, a social media network, where camp has become a hot topic with summer approaching.
Some camps do provide extended care before and after camp hours, but they typically charge extra since it requires staff to work more hours, says Jill Tipograph, founder and CEO of EverythingSummer.com, an independent summer program and camp consultancy.
The charge is similar to a baby sitting or day care service, she says, adding that it's done more as a convenience than a money maker. After care at the Zooper Day Camp at Woodland Park Zoo in Seattle, for example, costs $78 a week for morning and afternoons, with no coverage for Monday mornings.
When it comes to the more specialized camps, such as drama, dance or martial arts, scheduling can get even trickier, says Tipograph.
Many are held in places like dance schools and are not set up for extended care. The staff are also teachers in that particular area, not counselors per se, says Tipograph. That often means shorter hours and shorter sessions.
Providing extended care would drive up camp costs because the staff would have to be paid overtime, she adds.
There is a definite need for all-day, every-day summer programming, says Gary Forster, camping specialist for YMCA of the USA. About half of the YMCA's 600,000 day campers enroll longer than four weeks and are in pre-care or after-care. YMCA camp sessions range from 10 to 12 weeks to match schools' breaks.
"It's a godsend for someone like me," says single mom Martha McHugh, 52, an attorney in Palatine, Ill. She has sent her 10-year-old daughter to day camp at the Buehler YMCA for the past several years.
For many parents, summer comes down to planning — months in advance.
Capdevila, the Littleton, Colo. resident, has arranged for a baby sitter to take her daughter to swim team in the morning and then to a day camp that has extended care. She estimates she'll be spending about $62 a day, or $310 a week, for the sitter, camp and extended care.
"I don't know how people do it if they don't have a reasonable income," she says. "I for one would be all for a longer school year."
Copyright 2018 The Associated Press. All rights reserved. This material may not be published, broadcast, rewritten or redistributed. We strive to uphold our values for every story published.