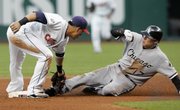 Cleveland — Carl Pavano threw strikes, and his Cleveland Indians teammates struck quickly at the plate.
Pavano won his third straight start, and the Indians scored in the first inning for the first time this month as they defeated the Chicago White Sox, 9-4, on Monday night to snap a four-game losing streak.
Pavano (3-3) allowed four runs and 10 hits over 61⁄3 innings in his first appearance against the White Sox in nearly five years. The right-hander didn't issue a walk and struck out three.
"He controlled the game, and it was good to see," Indians manager Eric Wedge said of Pavano, who threw 67 of 87 pitches for strikes.
Shin-Soo Choo and Jhonny Peralta drove in three runs apiece for Cleveland.
Copyright 2018 The Associated Press. All rights reserved. This material may not be published, broadcast, rewritten or redistributed. We strive to uphold our values for every story published.