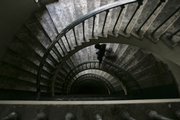 Athens, Greece — Far-right protesters tried to storm an old courthouse in central Athens Saturday where hundreds of illegal immigrants have lived for months amid piles of fetid rubbish and human waste without electricity, running water or sanitation.
The group of several dozen people hurled rocks and firecrackers at the eight-story building from the street and nearby buildings, while those living inside threw back slabs of masonry and bricks. At least three people were hurt in the clashes, two of them with head injuries.
Police fired tear gas and stun grenades, and a tense standoff followed. Some immigrants accused the police of ailing to protect them and said they would stand guard around the building throughout the night because of fears of further attacks.
The attack followed an anti-immigrant demonstration by the far-right Chrisi Avgi, or Golden Dawn group. Scores of protesters waved banners reading "foreigners means crime" and "we have become foreigners in our own country."
"We didn't do anything. Why do they treat us like this?" questioned Fouad, a 33-year-old Moroccan immigrant living in the building. "The police did nothing. ... Here in Greece, human rights don't exist."
Left-wing and immigrants' rights groups staged a counter-demonstration nearby, and riot police kept the two sides apart.
Greece is on a main smuggling route for immigrants heading to Europe, with tens of thousands entering the country every year. Authorities say the Greece needs help to cope because it stands on Europe's eastern frontier.
Thousands of the new arrivals head to the cities in search of work. But with the global financial crisis beginning to bite in Greece, both immigrants and aid groups say jobs are becoming scarcer, leaving many unable to pay for even basic necessities. Although Greece has not yet faced major layoffs, the economy is slowing and unemployment jumped to 9.4 percent in January.
Aid workers said Saturday that conditions at the courthouse had been allowed to spiral out of control and turn into a public health hazard. The building is owned by an insurance fund and has been vacant since 2000.
"It's a lot worst now," said Maurice, a 22-year-old Algerian living among the estimated 500 squatters, mostly men from Morocco and Algeria, inside the old Appeals Court building. "We live in misery."
Copyright 2018 The Associated Press. All rights reserved. This material may not be published, broadcast, rewritten or redistributed. We strive to uphold our values for every story published.