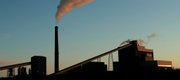 After months of debate and legislative battles, Sunflower Electric Power Corp. will be allowed to build a new, coal-fired power plant in Southwest Kansas. Trace the history of the disagreement and look back on how we got here.
Topeka — Construction of a coal-fired power plant in southwest Kansas moved closer to reality Wednesday as a key piece of legislation cleared an early hurdle.
The bill contains renewable energy proposals backed by Gov. Mark Parkinson, who made its passage a condition of his agreement to a deal allowing Sunflower Electric Power Corp. to build an 895-megawatt power plant near Holcomb in Finney County.
Members of the Senate Utilities Committee endorsed the bill Wednesday night with minor changes, setting the stage for debate expected today in the full Senate.
The legislation requires that all utilities generate 20 percent of their electricity from renewable sources by 2020. It also contains other "green" provisions to promote conservation and renewable energy, including incentives for consumers to use wind- and solar-powered generators.
Sunflower Electric, based in Hays, initially planned to build two coal-fired plants in southwest Kansas. But then-Gov. Kathleen Sebelius' administration denied an air-quality permit for the project in October 2007, over concerns over carbon dioxide emissions.
"I understand there are a few legislators who have such an ideological objection to coal that they can't vote for any bill that would allow that and I respect that," Parkinson told reporters Wednesday. "When you look at this settlement in its entirety, it is good public policy for the state."
Parkinson began negotiating the agreement when he took office April 28, after Sebelius resigned to become U.S. secretary of health and human services.
The single power plant now planned by Sunflower could generate enough electricity to meet the peak demands of 448,000 households.
Senate President Steve Morris, a Hugoton Republican, predicted easy passage of the renewable energy measure, which appears to have widespread support.
As the dispute between Sunflower and the governor's office dragged out for 19 months, Morris said, he never lost hope that the conflict could be resolved.
The plant also is seen as economic development for western Kansas, with some 1,500 construction jobs for the four years need to build the plant.
"To me, rational people would ultimately win out," said Morris, who supported two coal plants.
If the bill becomes law, Sunflower will end multiple lawsuits against the state challenging the denial of its permit.
Copyright 2017 The Associated Press. All rights reserved. This material may not be published, broadcast, rewritten or redistributed. We strive to uphold our values for every story published.