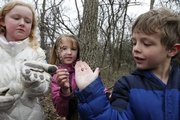 Past Event
When: Wednesday, April 1, 2009, 7 p.m.
Where: Free State High School, 4700 Overland Drive, Lawrence
-->
-->
Support the cause
There is a Nature Education for Kids fund established with the Douglas County Community Foundation. The fund will support the newly formed Nature Education for Kids task force. It supports environmental programs for Lawrence's children and initiatives to get them outside.
To make a donation, call the foundation at 843-8727 or click on dccfoundation.org.
For more information about the task force, e-mail outsideforabetterinside@gmail.com.
Being outside leads to a better inside — physically and emotionally. That's why no child should be left inside.
That's what longtime Lawrence real estate developer John McGrew believes.
And those beliefs were reaffirmed when he read Richard Louv's book "Last Child in the Woods: Saving Our Children From Nature-Deficit Disorder" — a book that has spawned a national movement to reconnect children to the great outdoors.
"I think the greatest gift my parents gave to me, outside of life itself, was a sincere appreciation of nature and the outdoors," McGrew said. "I would take my dog and my fishing pole and go up along the Kansas River and I just felt a real connection with life — I was grounded, I guess."
Today, the 70-year-old grandfather cringes when he sees children engrossed in texting on cell phones, playing video games or tapping away on computers.
"My mom would say, 'Go outside and play before dinner,' and I would go out and try to build a treehouse or something," McGrew said. "Today, they just sit down and play with their iPod or whatever."
He recalls vacations in pristine national parks where elk would be meandering by a stream, and then hearing children complain about being bored. The children wanted to get back in the Suburban and watch videos.
"It truly is a concern to me," he said.
Lawrence movement
So, McGrew helped form a task force of people who share his concerns. They include educators, parents, recreation leaders and Kansas University professors. The Nature Education for Kids task force has been meeting since September.
Among its goals:
• Build a butterfly garden at elementary schools that don't have one.
• Help sponsor contests and programs to raise awareness about the importance of science programs.
• Cooperate with the city's Parks and Recreation Department on the new Oregon Trail Park area. It's north of Sixth Street between the South Lawrence Trafficway and Wakarusa Drive.
• Cooperate with Lawrence public schools to support a full-time nature educator.
The ultimate goal is to help build a community wellness campus in Lawrence in cooperation with the city and school district. McGrew envisions a lake with a walking trail, signs that identify the flora and fauna, and a "miracle field" for handicapped children.
"We would let the imagination of the community decide exactly what the wellness campus would be, but we still have to have the land and a plan," he said.
McGrew said organizations such as the Boy Scouts, Girls Scouts and the Boys and Girls Club of Lawrence do a good job of getting children outside, but they are only able to reach a small percentage of Lawrence's children. That's why the group is working closely with the school district.
Bruce Passman, deputy school superintendent, is a task force member. He said environmental education has been a priority for the district for years. That's because research has shown nature is important to children's development intellectually, emotionally, socially, spiritually and physically. But the district has a finite amount of funding for field trips, butterfly gardens and nature projects.
"We want to provide more opportunities as a communitywide initiative and more opportunities for kids," he said. "It was a natural partnership between the school district and John.
"John certainly is passionate about it and it's his mission right now, and we want to support him in it."
Raising awareness
To McGrew's delight, the task force has made headway.
It is sponsoring a presentation this week, "The Ecology of Hope: Building a Movement to Reconnect Children and Nature," by Cheryl Charles. For 20 years, Charles served as director of Project Learning Tree and Project Wild, two of the most widely used environmental education programs in North America for K-12 educators. She is president of the Children and Nature Network. She will give the presentation at 7 p.m. Wednesday at Free State High School.
To help promote the presentation, the task force also is sponsoring essay and art contests for children in grades kindergarten through 12.
"We were just looking for creative ways to raise awareness," said Katherine Dinsdale, a trustee of the Lawrence Schools Foundation and a member of the task force. "I just think the best advocates for this are children who have experienced nature and love it and know in their gut that it's important."
A Web site is in the works and the task force has a logo, "Outside For a Better Inside." Gregory Thomas, chairman of KU's Department of Design, created the logo, which has a Monarch butterfly.
"The butterfly, of course, represents where they want to go with these butterfly gardens. It also has a lot to do with growth and metamorphosis of changing a spirit."
Copyright 2018 The Lawrence Journal-World. All rights reserved. This material may not be published, broadcast, rewritten or redistributed. We strive to uphold our values for every story published.