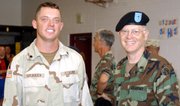 The Rev. David Upchurch, a 62-year-old retired chaplain, feels privileged to have served his country in the U.S. Navy as well as in the U.S. Army Reserve.
"My father was a career U.S. Air Force officer who served in North Africa during World War II," he says. "My mother, younger sister and I followed him from place to place, so I was familiar with life in the Armed Forces. We came to Forbes Air Force base in Topeka in 1960."
Upchurch graduated with a B.A. in international relations in 1968 from Kansas University. He immediately was commissioned as a Navy Supply Corps officer and spent four years on active duty, including two tours in Vietnam aboard the U.S.S. Kitty Hawk and the U.S.S. Bexar.
"In the fall of 1969, we were steaming from Da Nang to San Diego with 700 Marines who'd finished their tour of duty, and I attended an on-deck worship service led by a Southern Baptist chaplain," he recalls. "I thought this was a great ministry because many of these young men may never have come near a church door."
The seed planted that day was part of the reason Upchurch joined the U.S. Army Reserve 19 years later.
Upchurch says he'd always been interested in religion. He read the Bible daily, was active in Young Life during his teens, attended services in Air Force chapels regularly and was a member of KU's InterVarsity Christian Fellowship. He left the Navy in 1972 to attend Gordon-Cornwall Theological Seminary near Boston, graduated with a Master of Divinity and was ordained as a Presbyterian minister.
He pastored a small church in Topeka for six years, taught in nearby schools, and joined the Army Reserve as a chaplain in 1989. He and his son, Nate, an Army Reserve specialist, were called to active duty in January 2003.
"It was difficult for my mother (now 89) to hear the two of us were called to active duty at the same time, but she accepted it was part of our family's duty," Upchurch recalls. "Nate went to Iraq for 13 months, and I was stationed at the Army Reserve Headquarters in Wichita. I worked with 36 other chaplains and their enlisted assistants, called Unit Ministry Teams, to pastor 12,000 soldiers and their families in a four-state region."
Most of these Unit Ministry Teams eventually accompanied their unit's soldiers to either Iraq or Afghanistan. Upchurch's commission was to help, encourage and support the families left behind and ensure the next Unit Ministry Teams were trained and ready to go to war with their units.
He took part in the final family mobilization briefings.
"It was hard seeing families saying their goodbyes and taking leave of one another," Upchurch admits.
"In the midst of the sadness, I had opportunities to pray for and encourage soldiers and their families, and then provide support to many of them during the rough times of separation. I was also privileged to witness the joyful family reunions when deployment ended. Being an Army Reserve chaplain was a most fulfilling challenge and I loved it."
He retired from the Army Reserve in 2006, and now enjoys his role as part-time director of care and compassion ministries at Grace Evangelical Church in Lawrence.
Copyright 2018 The Lawrence Journal-World. All rights reserved. This material may not be published, broadcast, rewritten or redistributed. We strive to uphold our values for every story published.