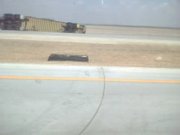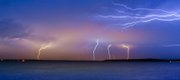 In the eye of the storm: The mystery, mayhem and majesty of Kansas weather. Learn about the power of severe weather, how to stay safe when a storm strikes, and how people affected by past storms have managed the rebuilding and aftermath of tornadoes striking home.
Just four days into spring, Kansas has already experienced many of the season's infamous tribulations.
6News Meteorologist Matt Elwell said that Monday's storm system produced 11 tornadoes, 12 reports of wind damage and more than 75 reports of hail across across the region.
"This is really our first major spring storm push," he said. "We've had one other setup, but it wasn't as potent as this one."
The line of storms put Lawrence under a tornado watch, a severe thunderstorm warning and a wind advisory for parts of Monday. A severe thunderstorm watch expired just after 3 a.m. this morning. The storm system did not reach Douglas County until around 12:15 a.m. and began to dwindle about 3 a.m.
A flood advisory was in effect until 3:30 a.m. Tuesday, but reports of flooding were few. A Lawrence police officer advised that drains in the underpass near Second and Locust streets were clogged and not allowing water to drain freely. There was only a few inches of water in the underpass, he said.
Lawrence officers also said that the traffic signal lights at Sixth and Vermont streets were out at 5:25 a.m.
Wind gusts of up to 91 mph were reported south of Manhattan, Elwell said. He said Lawrence experienced gusts of 51 mph Monday.
The blustery winds blew down power lines near Sixth Street and Wakarusa Drive on Monday, leaving thousands of people without power for part of the afternoon. Several reports of arcing power lines were also reported in the city Monday night.
In Franklin County, a police dispatcher said winds were whipping through so fast that street signs were being blown down.
The Kansas Highway Patrol reported that 13 vehicles in the central and western part of the state, mostly semi-trailer trucks, were blown over from high winds Monday. One semi rollover in Topeka forced cleanup crews to close part of Interstate 70.
Lt. Mike Murphy of the Kansas Highway Patrol said in his more than two decades in law enforcement, "I have never seen this many semis blow over."
Elsewhere in the state, several blocks of downtown Hutchinson were closed because of wind damage and debris that had blown off a building. In Concordia, strong winds damaged the roof of an elementary school and a nursing home, and a Sonic restaurant drive-through bay was blown into a Super 8 motel.
In south-central Kansas, the system spawned an apparent tornado in Cowley County, in a pasture several miles southeast of Winfield. Tree damage was reported along the Arkansas River.
Heavy rains caused flooding in cities including Arkansas City and Winfield.
Elwell said this system of storms would likely produce a colder setup for the area over the next couple of days. "This is a slow-enough moving system that the cold air could stick around with us until the weekend," he said.
Copyright 2018 The Lawrence Journal-World. All rights reserved. This material may not be published, broadcast, rewritten or redistributed. We strive to uphold our values for every story published.