Photo Gallery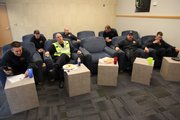 Trying to watch the NCAAs at the station
While many Lawrence residents headed to their favorite bar or restaurant to watch Kansas University play North Dakota State Friday morning, it was business as usual for those who had to work.
At Fire Station No. 5, the crew was gathered around a TV, most of them cheering on the Jayhawks.
"We're just going to watch TV as long as we can — and half the crew is on a fire right now, so we've got the front-row seats, which is nice," said Brian Trigg, a firefighter and paramedic.
Then the alarm rang. Within seconds the room was deserted with the game still blaring on the TV.
Over at US Bank, one teller made sure that he was able to catch the action as KU defeated North Dakota State.
"There used to be a bigger TV here and it just turned out it was too big to have it in our lobby," said Matthew Cole, 27. "I brought one from my house because I can't really miss a game. I definitely can't miss KU when they play, so it's kind of important to have the TV here."
Copyright 2018 The Lawrence Journal-World. All rights reserved. This material may not be published, broadcast, rewritten or redistributed. We strive to uphold our values for every story published.