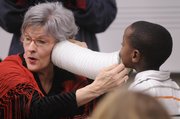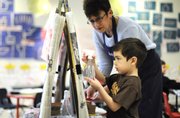 The piano keys come to life.
The crescendo builds as the chorus of "Red River Valley" echoes through the rehearsal room. If you close your eyes, you'd never guess the sound was coming from the mouths of child in first, second and third grades.
"I think probably the last people that know whether their children are talented or not talented are the parents," says Janeal Krehbiel, director of Cadenza, the Lawrence Children's Choir's youngest group of singers, made up of nearly 50 children.
Krehbiel knows a thing or two about detecting musical talent in children. She taught vocal and choral music in Lawrence schools for 37 years.
So how do you know if child could be the next Celine Dion or Josh Groban?
Krehbiel says you don't have to be born with natural ability. She believes all children can learn to sing.
"I'm not a believer of having talented or nontalented kids," she says. "I'm a believer of exposure and experience. I don't think children are born with a bunch of talent. They may have a genetic predisposition toward it, but most of it is just what they are exposed to: Are parents providing opportunities?"
Krehbiel says the earlier kids can find their "singing voice," the better. Parents can help by singing to their children, starting at a very young age and most importantly, Krehbiel says, giving your kids encouragement.
Being instrumental
Local musicians agree. Maybe your child won't ever be able to play the cello like Yo-Yo Ma, but if the interest is there, the talent is likely to follow.
"Every kid has some talent," says Thom Alexander, founder of the Americana Music Academy, 1419 Mass. "You have to kind of pull it out of them sometimes. The best thing is exposure. Start playing music to kids early. Chances are, you are going to find some sort of interest at an early age."
That worked for Stacey Belt, who used to lull his son to sleep when he was a baby with the fiddling and picking sounds of Mark O'Connor. Jesse Belt, now a fifth-grader at Broken Arrow School, has since taken up the fiddle.
"He's always had an interest," Stacey Belt says. "I've seen him tapping his toes. One day he told me he wanted to play the fiddle, and that's all it took."
The 11-year-old says he tries to practice every day, and his parents say he's already showing promise.
"Hopefully he'll be a big star someday and make me a lot of money," Jesse's dad says, cracking a smile. "The main thing is that he plays it and enjoys it."
More than 1,400 students came through the Americana Music Academy last year, and Alexander says it's very rare to see a child prodigy, a child who at 4 or 5 years old can just pull out an instrument and play Bach or Beethoven.
"In the eight years that we've had the school open, I can only think of one child who came through here who was a prodigy," Alexander says.
But he insists every child has the capability to learn to play an instrument.
"The best thing parents can do is give your kids the opportunity to try some stuff," he says, "and then see where it takes them."
The art of confidence
At the Lawrence Arts Center, 940 N.H, preschoolers have rolled up their sleeves and are elbow-deep into about a half-dozen different art projects.
At one table, kids use eye-droppers to drop paint onto heart-shaped designs. Another group of children is working on transferring the colors from tissue paper onto a canvas, using nothing but water and a spray bottle.
Teachers at the arts-based preschool say it can be difficult to detect raw talent at such a young age.
"What we notice more is an interest," lead teacher Heather Smith Jones says.
And that's what is important, according to retired art teacher Elizabeth Hatchett. She taught art in public schools in Kansas for 27 years and was named the 1996 Outstanding Elementary Art Teacher for the state.
"Of course you see talent," Hatchett says, "but one of the main things as a teacher is to make sure that talent is brought out in a child."
Hatchett says parents can help. Interview your child's art teacher and make sure he or she is letting your child be creative in class.
"Make sure they find joy and if they're doing that, they're going to keep doing it," Hatchett says. "They're going to want to continue it, and they'll succeed."
And Hatchett says just as important as exposing kids to all different areas of the arts is offering words of encouragement and work to build your child's confidence.
"You know what Picasso said: 'All children are artists. It's only life that can take the artist from us,'" Hatchett says. "Your role as a parent is to keep in them that joy, and if they don't end up to be Picasso or Leonardo or Rothko or whoever, they'll have a joy inside of them when they create."
Copyright 2018 The Lawrence Journal-World. All rights reserved. This material may not be published, broadcast, rewritten or redistributed. We strive to uphold our values for every story published.