On the street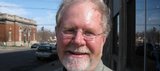 Yes … I visited all the Smithsonian museums in September.
Attendance is booming at Kansas University museums during the economic recession, and for more than one reason, museum officials said.
There are those like Mindy Dick, of Lawrence, who are taking advantage of the affordable educational opportunities the museums offer. The Natural History Museum and Spencer Museum of Art are both free — contribution based — institutions.
"It's great. … The kids love it, and it's very cost-effective," Dick said during a recent visit to the Natural History Museum with her family.
But Spencer director Saralyn Reece Hardy said many people also are visiting museums more as a form of refuge from the dreary economy, and are immersing themselves in exhibits.
"It's a way of living several lives at once and people seem to understand and revel in the fact that a museum is not only a place to find yourself, but it's also a place to lose yourself," she said.
The Natural History Museum recorded an 8 percent increase in visitors between August 2008 and February 2009, compared with the same time period one year ago. It saw 12,500 visitors during the last six months.
"We just ask for contributions at the door and that allows us to, I think, attract more people than some activities that might cost more money," said Jen Humphrey, museum communication director. The museum requests a suggested $5 contribution from adults and $3 from seniors and children.
Spencer recorded a 10 percent increase in visitors during the 2007 fiscal year, which runs from July 2006 through June 2007, over the year before. Results for 2008 were not available from the museum, though Hardy said: "Attendance at the museum is very high right now."
Though the numbers have reportedly gone up, museum officials are awaiting word on any negative effects the economic downturn will have on their institutions, as the Kansas Legislature works to determine how much to cut state budgets. The museums receive much of their funding support from the state.
"We're very much affected by the economy and the decisions of the Legislature," Humphrey said. "Any deep cuts that are made in state funding hurt all of KU."
The museums have already made adjustments, in anticipation of a budget reduction. Beginning in December, the Natural History Museum closed on Mondays, which should save the museum about $10,000 a year on utility and salary costs, Humphrey said. At Spencer, museum officials shaved one hour each day off gallery hours.
"We're paying attention and we're trying to be very fiscally responsible," Hardy said. "We're waiting to see what next year brings."
Neither museum would say exactly what effect future budget cuts would have on their operations.
While times are rocky, the museums are working to reach out and pull in an even higher number of museum viewers, by hosting special events and children's groups.
Anything to get guests in the door. "We would love to see more people here," Humphrey said.
Copyright 2018 The Lawrence Journal-World. All rights reserved. This material may not be published, broadcast, rewritten or redistributed. We strive to uphold our values for every story published.