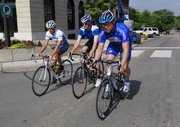 Editor's note: Reporter Mark Boyle takes us behind the scenes of news stories in the area. This week, he clips in and pedals off with two seasoned cyclists as they prepare for the Tour of Lawrence. The race will attract both professional and amateur cyclists from all over the country, bringing them to Lawrence during the Fourth of July weekend.
When a professional cyclist challenged me to a race, I had my doubts.
That's because I am from Colorado and quite comfortable riding a mountain bike over rocky terrain. However, I am not so comfortable riding a road bike on pavement.
Adam Mills, the professional cyclist, assured me that when it comes to the street sprint event, anyone can win.
"It goes a little bit uphill. It's about 200 meters. As soon as they say 'Go,' you get to the end as fast as you can," Mills said. "People who can go fast for 10 seconds have a chance and that's the beauty of street sprint."
Equipped with the best gear, courtesy of downtown Lawrence's Sunflower Outdoor & Bike Shop, 804 Mass., I was ready to take on the pros.
It was my chance to see what it would be like to participate in the Tour of Lawrence, which is July 3-5. That's when professional and amateur racers will take over the streets in the city's first USA Cycling Pro-Am event.
"Lawrence is a great cycling community, and I think it's a great opportunity to showcase that," said Dan Hughes, owner of Sunflower Outdoor & Bike Shop. "Everywhere from downtown to the campus and everywhere in between, I think it's a big event this year that's just going to grow."
Mills travels all over the country to race and is happy to welcome an event of this magnitude to his backyard.
"You're going to see upwards of one thousand riders here over a weekend just racing and having a good time in a community that supports cycling a lot," Mills said.
Mills edged out Hughes and me as we raced up the street sprint course on Seventh Street, between Kentucky and Massachusetts streets. He won all three races.
The sprint course is quick, exhilarating, and when the professionals take over the track, it will most certainly be exciting entertainment for any spectator.
"The universal response from folks who haven't seen a bike race before is just the sheer speed in which these guys go around the course," Hughes said. "It's amazing and they create their own wind stream when they go by, so it's fast and a lot of action and a lot of fun."
For more information about the race, log onto touroflawrence.com.
Copyright 2018 The Lawrence Journal-World. All rights reserved. This material may not be published, broadcast, rewritten or redistributed. We strive to uphold our values for every story published.