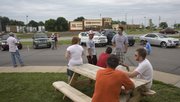 The crowd's eyes fixate on a line of about 20 cars that roll in to Sheridan's Frozen Custard parking lot at the intersection of 23rd and Iowa Streets.
The sun reflects off at least one part of every car — chrome rims.
While "tricking" out cars isn't a new trend, two Lawrence residents are hoping to entice other car enthusiasts with vamped-up vehicles to join the MAC Chrome Club.
"Everybody got chrome," said co-founder Dwane Jimerson. "We just thought it was some way we could get together, have fun, (and) cruise around town."
The MAC Chrome Club revved up this spring with three cars. Now that number is speeding toward 25.
"Every Sunday it grows more and more and more," Jimerson said. "Everybody got chrome these days."
While Jimerson keeps it somewhat toned down — with chrome on his wheels, grill, mirrors and door handles — the other club co-founder, Alex Cano, likes it a little shinier. "I got all the chrome I can put on it," he said with a smile.
The group meets in downtown Lawrence, cruises Massachusetts Street and heads south to Sheridan's, taking over the parking lot around 6:30 p.m. every Sunday, unless it rains on their parade of chrome.
"It always attracts attention to whatever business we park at," Jimerson said. "This (Sheridan's) is basically the center point for Lawrence."
The club is always looking for new members, but there is just one requirement to ride.
"You must have chrome rims. Period," Jimerson said. "It shines. It gets attention. It just looks nice. It's chrome."
For more information on the MAC Chrome Club, call Jimerson at 550-7318 or Cano at 760-6087.
Copyright 2018 The Lawrence Journal-World. All rights reserved. This material may not be published, broadcast, rewritten or redistributed. We strive to uphold our values for every story published.