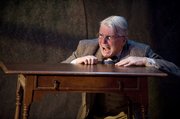 New York — From major theaters such as Canada's Stratford Shakespeare Festival to small companies such as the Barnstormers Theatre in bucolic Tamworth, N.H., uncertain economic times have forced theaters across North America not only to re-examine what they are putting on stage this summer — and beyond — but how to sell these plays and musicals, as well.
At the 2009 conference of Theatre Communications Group, the national association for nonprofit professional theaters, the mood was upbeat, according to Teresa Eyring, TCG's executive director. The conference was held in early June in Baltimore.
"But nobody knows what will happen from month to month," Eyring says. "I would describe theaters as 'optimistic,' but with clear eyes about the realities of the situation."
For one thing, audience ticket-purchasing habits have changed with the recession.
"We are finding that people are waiting to make their decisions," says Antoni Cimolino, Stratford's general director.
Still, it's forced some theaters to put more money into marketing and advertising to reach potentially wavering audience members.
At Canada's Shaw Festival, in picture-perfect Niagara-on-the-Lake, Ontario, the theater is trying to capitalize on people forgoing European vacations and staying closer to home.
"We are in the heart of the Niagara wine country," says Valerie Taylor, Shaw's director of marketing. With one winery — the Hillebrand Winery — the theater has created a "go-local" dining package that celebrates wine and food grown in the region and includes, of course, theater tickets. Taylor calls it "one-stop shopping."
That shopping also includes the search for value, and more theaters than ever are offering discount tickets.
"You name it, we probably have got a discount for it," says Tina Packer, founding artistic director of Shakespeare & Company, which is located in Massachusetts' Berkshires.
At other theaters, falling ticket sales and the drying up of corporate and private donations have taken their toll, with some theaters slicing their budgets dramatically, according to Eyring.
For example, the Utah Shakespeare Festival cut its fiscal 2009 budget by $800,000, from $6.7 million in 2008 to $5.9 million this year.
The drop was not without pain, says R. Scott Phillips, who runs the Utah festival located in Cedar City.
Phillips reduced programming, chopping a week off the festival's summer schedule. Still, Phillips remains hopeful.
"We have a strong company and the visions for the plays are exciting. I think this will be as good if not a better season than we have done in the past," he said.
And at Shakespeare & Company in Lenox, Mass., some $450,000 was cut out of the production budget, although the number of shows jump to 18, more than double the number done last year.
"At every turn, we have thought, 'How can we do this for the least amount of money?' What it means is that the sets are really simple," Packer says. "There might be one backdrop and six pieces of furniture on stage that get changed around. We're trying to be really inventive. That means the acting has to be impeccable. And so far, so good."
Copyright 2018 The Associated Press. All rights reserved. This material may not be published, broadcast, rewritten or redistributed. We strive to uphold our values for every story published.