Past Event
When: Monday, June 29, 2009, 7 p.m.
Where: Lawrence Visitors Center, 402 N. Second St., Lawrence
Cost: Free
-->
-->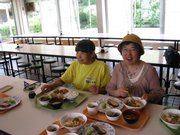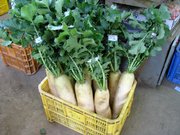 By definition, foods labeled "organic" should be similar in certain ways — as in foods produced without conventional pesticides, antibiotics and chemicals, among other criteria.
But the ins and outs of how to do it and the best ways to get organic foods to consumers are as varied as the foods produced under the organic food standards to begin with.
With that in mind, this week marks the second part of a cultural exchange with goals on just how to improve organic agriculture worldwide. On Tuesday, a 10-member group from Japan arrived in Lawrence for an information-gathering trip that will include farm tours, a forum on local organic foods in Japan and a cooking demonstration at the Lawrence Farmers' Market.
The goal for the exchange, known as the Global Partners for Local Organic Foods (www.gplof.org) is to use each group's knowledge to improve organic agriculture from the inside out, says its coordinator, Lawrence resident Patricia Graham.
The partnership is the brainchild of Graham, who has a doctorate in Asian and Japanese art from Kansas University and has a love of organic, local foods. Many times a visitor to Japan, she began working out a way to incorporate the local food system and education into a Kansas-Japan connection.
"The exchanges are just the beginning," says Graham, who spent two years planning the program, coordinating funds from the Japan Foundation Center for Global Partnership, the Elizabeth Schultz Environmental Fund and the Douglas County Community Foundation and working with the Kansas Rural Center and Japan's arm of IFOAM, the International Federation of Organic Agriculture Movements.
The Japan team's visit is the second fact-finding mission for the group. Last month, representatives from Kansas visited Saitama, Japan, northwest of Tokyo on their own fact-finding mission.
Group member Dan Nagengast, executive director of the Kansas Rural Center, says that though the Japanese members may disagree, he believes they've drawn the shorter straw.
"I think we have more to learn from them than they have from us," he says.
Whatever they may learn, the Kansas group members, who include farmers, restaurateurs, academics and other food-minded people, along with the Japanese contingent of farmers and intellectuals, plan to use public forums and what they've learned on these missions to launch pilot projects with community groups this fall. This is all with the hope of spreading interest in organic, locally produced foods in Kansas and Japan.
On the Japanese group's itinerary while in Lawrence includes visiting local organic farms to see how they work, what methods are utilized here and to see the ways local producers get their foods to consumers. That includes a trip to the Saturday Farmers' Market, where not only will the Japanese visitors be learning from the market, but market-goers will have a chance to learn from them.
At 8:30 a.m. there will be a cooking demonstration where members of the Japanese party will prepare dishes using ingredients they find at the market says Tom Buller, market coordinator.
"The Farmers' Market is always looking to show people different ways to use the products our vendors sell and this seemed like a really fun way to broaden our horizons," Buller says. "I think this demonstration is also a really great way to create the kinds of cross-cultural exchanges that are part of the foundation of the Global Partnership for Local Organic Foods."
Farmers' Market Chef Demonstration
Who: Japanese chefs will be preparing foods using market ingredients. Sampling and recipe information will be provided.
When: 8:30 a.m. Saturday at the Farmers' Market.
Where: Public parking lot on New Hampshire between Eighth and Ninth streets.
-->
-->
Buller says the demonstration will include some sampling as well as information on the foods prepared.
Katsushige Murayama, president of IFOAM-Japan, says that he hopes that initiatives like the Global Partners, and all that goes with them, from demonstrations to forums, can change the way we eat — one bite at a time.
"I hope that the value of organic agriculture will gradually gain recognition by more people and that, someday, organic agriculture becomes the 'norm' of our farming," Murayama says via e-mail. "I suspect that our movements will face repeated challenges from multiple angles, such as economy (profit-making model, market monopoly model) and what I believe as parascience (genetic engineering, radiation, etc.). Despite it, I hope that all of us from all over the world can work together to make such a dream come true."
Copyright 2017 The Lawrence Journal-World. All rights reserved. This material may not be published, broadcast, rewritten or redistributed. We strive to uphold our values for every story published.