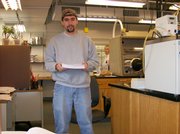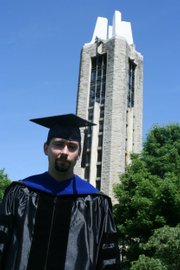 Grandfather offered message about God
Marshall Lackrone, pastor, Calvary Temple Assembly of God, 606 W. 29th St.:
My grandfather always had time for me and would tell of family history in the many conversations we had. He told me of his first remembrance of his mother answering a question for him.
As the story goes, he and his mother were taking a walk out in the country when they walked across a small bridge. He could see down into the water and see fish swimming around. He always emphasized that in those days you could see clearly into the water, not at all murky or filled with contaminants.
He was born in 1896, and he was about 4 years old when this happened. He asked his mother what were the fish doing down there, as he could see their gills going in and out. She replied that the fish were breathing. When he then asked how could this be, since they were underwater, his mother simply told him that God made the fish to be able to breathe underwater.
My grandfather would tell me at that very time he believed in God, and he believed that God could do anything. This was his beginning of faith as a child. So as the Scripture says in Romans 10:17: "So then faith cometh by hearing, and hearing by the word of God."
He kept his faith in God all of his life and never looked away from this faith that he learned from his mother.
— Send e-mail to Marshall Lackrone at lackrone@sunflower.com.
Actions speak louder than words
The Rev. Bill Woodard, pastor, West Side Presbyterian Church, 1024 Kasold Drive:
My father, grandfather and great-grandfather didn't talk about their faith as much as they lived it.
I can remember visiting my great-grandparents. I was outside playing when I noticed all the trees were filled with birds. Not a few — but hundreds, it seemed. I ran into the house and to my great-grandfather to tell him. I was a little scared. He thanked me, looked at his pocket watch, got up from his chair and walked to the back porch.
I followed, but not too close. He took a very large basket and filled it with bread crumbs that were drying on the back porch. He opened the back door, took a handful and threw them on the ground. Immediately birds flew down to get the crumbs. Then another handful was dispensed. The birds then flew away. After they left, he took another handful and threw it onto the ground because there were other birds waiting patiently in the trees. He threw another handful for them. This continued until they had all flown away.
At supper that evening each person at the table took hold of their bread, broke off a piece, put it on the table at the top of their plate and then we prayed. At the end of the meal, the bread pieces were collected, as well as any other pieces of bread uneaten, and taken out to be put on flat sheets to dry. In the coming days at each breakfast, mid-morning coffee, lunch, mid-afternoon coffee and supper, we broke off a piece of bread and then prayed.
My great-grandfather, like my grandfather and father, never really lectured me about the need for helping others, going to church or for being kind, compassionate and caring. They just lived it. You don't always remember what you father may have said, but I believe you remember what they did. My father passed away more than 30 years ago, but I will always remember how he lived his faith.
— Send e-mail to Bill Woodard at revwood2000@hotmail.com.
Copyright 2018 The Lawrence Journal-World. All rights reserved. This material may not be published, broadcast, rewritten or redistributed. We strive to uphold our values for every story published.