Photo Gallery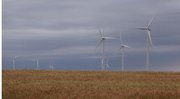 Meridian Way Wind Farm
Meridian Way Wind Farm, which was constructed in 2008, changed the landscape and economics for the rural Kansas town of Concordia. But, many say those changes have been for the better.
In the wheatfields of north-central Kansas stand what officials as high up as the governor are hoping will be the state's next great crop: wind turbines.
Poised as the third best state in the country for wind power and on the cusp of a renewable energy revolution, Kansas has the potential to be at the epicenter of the wind industry, state leaders say.
Along with the millions of dollars the wind industry could bring through construction and leasing arrangements, it could also attract manufacturers to the heart of the country's wind belt.
"This is the best news that rural Kansas has had in a long time," House Minority Leader Paul Davis, D-Lawrence, said.
But to capitalize on its wind potential, the state — along with the rest of the country — will have to find ways to move power from thinly populated areas blessed with a steady supply of wind to urban centers and beyond. That task will require the building of hundreds of miles of high-voltage electrical lines — a billion-dollar or more feat.
Already transmission lines are tapped out in the western part of the state, said state Rep. Tom Sloan, R-Lawrence.
"There are times during the year when there is so much congestion, so much power trying to get through the transmission lines, that the wind turbines are turned off," Sloan said. "There is just no room to get the electrons through."
Progress on wind
The past two years have been historic for wind energy in Kansas. During that time, four wind farms have been built, boosting the state's wind power from 362 megawatts to more than 1,000 megawatts.
In May, Gov. Mark Parkinson's agreement to allow a coal-fired power plant in southwest Kansas came with a mandate to have 20 percent of the state's electricity come from renewable energy sources by 2020.
With the coal-fired power plant, Sunflower Electric Power Corp. would build two transmission lines, each carrying up to 1,000 megawatts of electricity to Colorado.
Another agreement was reached a few weeks later. A settlement had been reached between utility companies allowing for a high-voltage transmission line to run through Kansas from Nebraska to Oklahoma.
All of those transmission lines, which are about four years away, will open the state up to move more wind energy.
"By 2013, we will really have the potential to address this nation's energy needs," Sloan said.
A wind exporter
A few years ago, it wasn't even clear whether the state's own utilities would be able to tap into Kansas' wind resource, Parkinson said.
"The first sort of real wind question was, 'Will Kansas get its act together to use wind for its own companies?' And we have definitely answered that question in the affirmative," Parkinson said.
"The second question — and the answer to the second question is still up in the air — is whether we will now use this wind resource to provide electricity to other states and utility companies outside the state of Kansas."
It's a role that could be similar to the one Kansas plays in supplying wheat to the country's bread industry, Sloan said.
Wind farms aren't the only draw. State leaders are hoping to attract wind manufacturing, capitalizing on its central location in the wind belt and access to major interstate highways.
So far, Kansas has lagged behind the less windy states of Colorado and Iowa in winning over wind-related businesses. Those states have progressive renewable energy policies and incentives in place.
However, this spring the German-owned Siemens company announced plans to locate a wind turbine plant in Hutchinson, bringing with it 400 jobs.
"I really believe that, if the right decisions are made, Kansas can be the renewable energy capital of the world in the same way that we are the air capital of the world," Parkinson said. "I say that not just out of hope, but because of reasons you can objectively look at it."
The quest to bring both wind farms and manufacturers to Kansas would be bolstered if federal legislation is passed to require states to have a percentage of electricity come from renewable energy, said Christine Real de Azua, a spokeswoman for the American Wind Energy Association.
Neighboring states with less wind power can meet their renewable energy standards by buying power from Kansas wind farms. And, a growing demand for wind would mean more businesses looking to locate within the United States.
After a bumper crop of wind farms in the country last year, construction slowed down with the economy. A national renewable energy standard would help return the wind industry to where it was in 2008.
"In a time like this, we are circling back to policy," Real de Azua said. "Policy is what is going to help drive the market."
Wind's limitations
Of course, wind is only a piece of the energy pie. Studies suggest that wind energy should provide no greater than 20 to 30 percent of the energy supply.
Because wind is an intermittent resource, other energy facilities such as natural gas, nuclear and coal plants have to be built to cover all of the energy needs for the times when the wind stops blowing.
Technology is being developed that would help store some of the wind's excess energy, but it's years away, said Greg Greenwood, who is vice president of generation and construction for Westar Energy.
And, until higher powered transmission lines are in place, there will be a lull in wind energy projects, Parkinson said.
He predicts another 1,000 megawatts more of wind power could be built before new lines are needed.
While the best wind dynamics are in the western part of the state, the eastern half is home to most of the high-voltage transmission lines and population.
For companies like Westar, which is looking to add another 500 megawatts of wind power to the already 300 megawatts it brought on last year, transmission line capacity is a concern.
"It's an issue that we think a lot about today," Greenwood said.
In the long run, wind isn't more expensive than coal and is cheaper than natural gas, Greenwood said. But, there is a price tag to not being able to generate electricity on demand.
"Wind can be a piece of the answer, but it is going to take all types of generation to meet customers' needs in the future," Greenwood said.
Copyright 2018 The Lawrence Journal-World. All rights reserved. This material may not be published, broadcast, rewritten or redistributed. We strive to uphold our values for every story published.