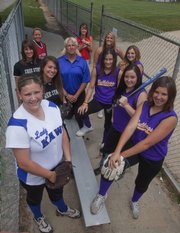 Rosie Hull – senior
Free State High
After missing her junior season due to a knee injury, the FSHS outfielder bounced back in a big way in 2009. The Kansas University-bound outfielder hit .507 and was named first-team All-Sunflower League and nominated for all-state honors. She also played in the Mo-Kan all-star game.
Maggie Hull – senior
Free State High
Like her twin sister, Rosie, who bounced back from a knee injury during her senior season, the FSHS center fielder turned in a stellar season in her final go-around with the Firebirds. Maggie Hull hit .470, was named first-team All-Sunflower League, was an all-state nominee and was selected to play in the Mo-Kan all-star game. She, too, will play at KU next year.
Lauren Himpel – senior
Tonganoxie High
The do-it-all THS senior followed up an all-area junior campaign with an even better senior season. She hit .457, smacked four doubles and two triples and stole 33 bases, all while striking out just three times. In addition, she had a stolen-base percentage of .920 and a fielding percentage of .970.
Alex Zordel – senior
Baldwin High
The Bulldogs hurler led the Frontier League with a 15-6 record and added a 2.00 ERA and 84 strikeouts. She pitched all but three innings (133 of 136) for the Bulldogs this season. Her performance on the mound did not slow her down at the plate. She finished with a school-record .563 batting average and added six home runs and 25 RBIs, both of which also were school records.
Kendall Patterson – senior
McLouth High
Last year's all-area player of the year followed up a monster junior season with an explosive senior season. In addition to eclipsing state records for career batting average (.743), career doubles (66) and career hits (164), she finished the 2009 season with a .658 average and another solid season behind the plate as the Bulldogs' catcher. In all, Patterson was a three-time Class 3A all-state selection, a three-time all-area pick and a first-team all-south central regional selection. She'll play at Kansas University next year.
Lezley Lawson – senior McLouth High
The 2007 all-area player of the year joined her teammate in finishing her career in style. "LuLu," as she's known to her friends and teammates, led the Bulldogs with seven home runs this season, pushing her career total to 22. She hit .676 in '09 and was 10-2 on the mound with an ERA of 0.92. In addition to turning in a memorable senior year, Lawson leaves McLouth as the state record holder for career RBIs with 116.
Kaley Patterson – sophomore
McLouth High
The younger Patterson on the McLouth High team was another dual threat for the Bulldogs. In addition to finishing the season with a 7-1 record and 0.56 ERA on the mound, Patterson hit .633 at the plate and had 21 RBIs and a .990 fielding percentage in her second season as a starter.
Missy Rome – senior
McLouth High
Rome did most of her damage this season from the batter's box and base paths. She finished the season with a .596 batting average, jacked three home runs in the process and added 22 stolen bases and 33 RBIs to her totals.
Courtney Kasson – senior
Perry-Lecompton High
This season's all-area player of the year proved to be one of the most unstoppable forces in the game. As the Kaws' top pitcher, Kasson finished with a 15-3 record and a 1.18 ERA. She tossed eight shutouts and struck out 145 batters while walking just 16. She was nearly as productive at the plate, finishing with a .597 batting average, a .984 slugging percentage and six home runs.
Hailie Rae – senior
Ottawa High
In helping lead the Cyclones to a second-place finish at state, Rae was named first-team All-Frontier League and turned in outstanding numbers on both offense and defense during the 2009 season. On the mound, she finished the season with a 13-2 record and a 0.80 ERA. Opponents hit just .140 against her, and she struck out 138 along the way. At the plate she hit .365 and had five home runs, three triples, five doubles and 31 total hits in 85 at-bats.
Honorable Mention: Lauren Fox, Megan Smith, Lexi Smith — Free State; Lauren Massey, Jamie Jarrett — Lawrence High; Shelby Erickson, Samantha Kopp — Perry-Lecompton High; Anna Mages, Shelby Miller, Jori Graf — Ottawa High; Katie Williams, Jordin Burford, Makenzi Shackley — De Soto High; Evan Folks, Bailey Scott — Eudora High; Audrey Trowbridge, Jordon Miller, Haley Pfau — Oskaloosa High; Kaitlyn Wolken — Tonganoxie High.
Copyright 2017 The Lawrence Journal-World. All rights reserved. This material may not be published, broadcast, rewritten or redistributed. We strive to uphold our values for every story published.