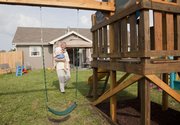 When Jennifer and Kevin Stewart pulled into their southeast Lawrence driveway Sunday evening, they thought they were getting a visit from ABC's "Extreme Makeover."
A band was playing in their front yard, where about 60 people stood. And there was a sign: "Welcome to the Stewarts Mini Home Make Over."
As it turned out, it was friends and family who had spent the weekend sprucing up their house, not "Extreme Makeover's" Ty Pennington.
"I am still speechless," Jennifer said.
For the past year, Lawrence residents from more than a half-dozen organizations had been secretly planning to help fix the Stewarts' home.
Kevin recently lost his job and the family has been hit with medical bills after their son, 6-year-old Cameron, was diagnosed with autism. With other expenses, keeping up the home had been low on the priority list.
"This is a family that just doesn't think about their own needs. They think about other people's needs, and it is just so fun to give back and do something for them," said Brenda Jackson, who was among those who helped organize the makeover.
Known as Operation Blessing, the project entailed convincing Jennifer that she had won a free makeover consultation. That way, the volunteers would know what changes she wanted to make to the house.
Before this weekend, local groups had pitched in to build a fence around the backyard, plant a friendship garden and paint the outside of the home.
Up until Sunday evening, the Stewarts had believed all the help had been coincidences.
"We just thought, you know, this is a gift from God," Jennifer said. "These were things that weren't even on our radar."
This weekend the undercover operation moved into high gear, when Jennifer and Kevin attended an autism conference in Oklahoma City. Help came from Lawrence Free Methodist Church, Lawrence Wesleyan Church, Mothers of Preschoolers, Lawrence Autism Society, private businesses and neighbors.
Dozens of people set to work laying carpet, painting walls, replacing screen doors, installing new appliances, fixing furniture, hanging curtains and building a new play set for the couple's two children.
And, in true "Extreme Makeover" fashion, the team stayed up until 1 a.m. painting and made sure there was a party when the Stewarts arrived home.
Jennifer said the makeover was far greater than she could have imagined.
"I'm sorry, ABC, but this is better than 'Extreme Makeover,'" she said. "This topped it. It just topped it."
Copyright 2017 The Lawrence Journal-World. All rights reserved. This material may not be published, broadcast, rewritten or redistributed. We strive to uphold our values for every story published.