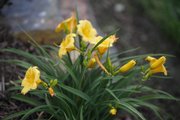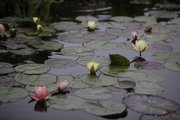 TAKE THE TOUR
Tour hours: 5 p.m. to 8 p.m. Friday, 8 a.m. to 6 p.m. Saturday and 10 a.m.-4 p.m. Sunday.
Garden centers participating in the tour: Clinton Parkway Nursery, 4900 Clinton Parkway; Hamill's Country Garden Nursery, 1236 N. 100 Road, Baldwin City; Pendleton's Country Market, 1446 E. 1850 Road; Sunrise Garden Center, 1501 Learnard Ave.; The Henrys' Plant Farm, 248 N 1700 Road, Lecompton; Water's Edge, 847 Ind.
Private gardens on the tour: 1305 Morgan Court, built by Anything Aquatic Inc.; 3915 Aster St., built by Keys Landscape, Inc.; 1210 Lakeview Court and 4104 W. 13th St., built by Low Maintenance Landscape Inc., 4712 Carmel Place and 1541 El Dorado Drive, built by Quiet Places Water Features; 1618 Cypress Point Drive, built by Stonedesign; and sites not yet announced by George Osborne Landscape Design.
For more information, visit www.tourdesfleurs.net.
-->
-->
Escape the beginning of summer with cool, serene garden hideaways, bubbling waterfalls, stone accents and an inside look at area garden centers during the second annual Tour des Fleurs.
The tour, June 19-21, is a new spin on the old-fashioned garden show: Participating businesses highlight the weekend with special events and open the doors to private gardens they have built and maintain.
All stops on the tour are free, but if you plan on making many purchases, a $5 wristband, available at any of the tour stops, entitles a tourgoer to special discounts. Proceeds from wristband sales will support the Junior Master Gardener program at New York School.
Hands-down, the best part of this tour is the opportunity to interact with business owners who have created these unique shops and gardens.
Dave Plamann of Quiet Places Water Features is one participating business owner that I had the opportunity of visiting with recently. Plamann built the simple yet elegant pond at 4712 Carmel Place and helped the owners, Jerry and Mary Kay Samp, with the flagstone and plantings immediately surrounding the pond.
Plamann says he likes working with the "do-it-yourself with help" homeowners like the Samps. The front and perimeter gardens at the Samps' home is their own handiwork. Plamann's help was needed, however, to transform the large expanse of turf in the middle of the backyard into a more inviting expansion of the patio.
Listening to quiet music of the dual waterfalls, I can close my eyes and envision building this little getaway in my own yard. Goldfish dart in and out under the waterfall, and four different varieties of waterlilies dance in the gentle breeze. Lotus, hornwort and other aquatic plants grace the interior of the pond, while forget-me-nots, daylilies and a juniper frame the edges. One of my favorite plants also provides year-round interest on the edge of the pond: it is a dwarf-contorted filbert called Harry Lauder's Walking Stick.
Special events at the garden centers and the other private gardens on the tour promise to be just as inspirational and enjoyable. Friday night features include wine-tasting and cheese at Pendleton's and at 4712 Carmel Place, and you can get a special view of landscape lighting at 3915 Aster St. On Saturday, Water's Edge will have a lotus party at lunchtime, and Stonedesign will be baking bread in an outdoor oven at 1618 Cypress Point in the afternoon. Local artists will display their work all weekend at Henrys' Plant Farm, and there will be homemade ice cream at lunch on Sunday.
Wristbands will get you discounts on consultations, plants and pottery at many of the tour stops.
Clinton Parkway Nursery, Pendleton's and Low Maintenance Landscape Inc. are also sponsoring educational talks at their locations on both days of the tour (contact them or check the tour Web site for more information).
— Jennifer Smith is the Douglas County Extension Agent – Horticulture for K-State Research and Extension. She can be reached at 843-7058.
Copyright 2018 The Lawrence Journal-World. All rights reserved. This material may not be published, broadcast, rewritten or redistributed. We strive to uphold our values for every story published.