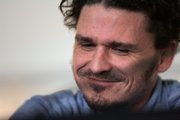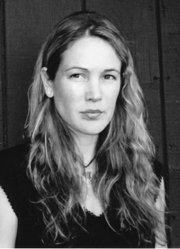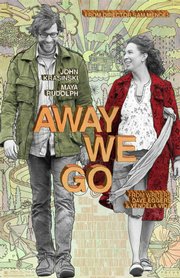 Chicago — Acclaimed author Dave Eggers and his wife, Vendela Vida, were expecting their first child, and they were doing all the things that first-time parents are apt to do, reading the baby books, setting up the nursery and politely listening to heaps of advice from well-meaning friends and strangers.
"I was venturing out into the world for the first time as a pregnant woman," Vida said. "I would come home and tell Dave stories that I thought were hilarious about people telling me I couldn't get gas at the gas station if I was pregnant and (other stories) I don't even remember now."
"Every so often, one of us would say, 'Oh, that should be in a movie,"' added Eggers. And so they did what comes naturally to writer-types: They started jotting down observations, amusing phrases and snippets of conversations.
The result of those early scribblings has now become the quirky, delightful and thoroughly heartfelt film "Away We Go," directed by Sam Mendes ("Revolutionary Road") and starring John Krasinski ("The Office") and Maya Rudolph ("Saturday Night Live"); the film opened Friday.
These days, Eggers sits atop a literary empire. The 39-year-old is the famed author of "A Heartbreaking Work of Staggering Genius," as well as five other books, founder of the McSweeney's publishing house and quarterly journal, and co-founder (with Vida) of the 826 writing centers, with locations across the country.
No slacker herself, the 37-year-old Vida is an accomplished author, editor and journalist in her own right, with three novels and one book of nonfiction squarely under her belt.
Together they have become two of the leading literary voices of their generation, raising two children, living a book-driven life in San Francisco and hobnobbing with the likes of Michael Chabon and Nick Hornby.
On a recent evening, the pair sat down for dinner at the Marion Street Grille in Oak Park, Ill., before an advance movie screening at a nearby theater.
Tucked into a corner table, they gamely answered some questions, deftly avoided other questions, scoffed at a suggestion that the script was autobiographical and, as expected, exchanged lots of clever banter.
Asked if they envisioned the project as a screenplay from the start, Eggers responded dryly, "It was a sonnet at first."
"Then it was haiku," she added, in practiced deadpan.
"Then a short opera that could be sung a cappella," he said.
None of which really qualified as an answer.
But interviewers have come to expect this from Eggers, famous for his deliberately knowing, self-referential, self-mocking style. With dark curly hair, heavy brow and wry smile, he sat in a state of constant motion, tapping his foot, running a hand through his hair and delivering a steady supply of wisecracks.
Across the table, Vida — poised, quick-witted and delicately beautiful — seemed more willing to answer questions. "We wanted to collaborate, and (a screenplay) seemed to be the most viable form," she said finally.
As a lark
Interviewing the pair can be tricky. For this story, they agreed to an interview, but refused to have their photo taken. Charming one moment, deflective the next, they maintained that the film isn't autobiographical, despite several similarities with their own lives. (The baby; the death of a character's parents; the name of the female lead, Vernona, which sounds a lot like Vendela.) When pressed, they cracked jokes.
"We were trying to figure out what is autobiographical," Vida said.
"Vendela had a baby," said Eggers, with mock helpfulness.
"That's true," she said.
"That was torn straight from our own lives," he said.
They met at a wedding in San Francisco in 1998, married in 2003 and had worked together unofficially for years, editing each other's writings and listening to each other's ideas. But it was the pregnancy in 2005 that inspired their first official writing collaboration.
The screenplay began as a lark, something they did on the side, Vida said, "to make each other laugh." Sitting on the couch in their living room, they imagined a couple expecting their first child and setting out on a cross-country road trip. Along the way, the wandering couple meet a series of parents, each with a different — and often amusing — approach to child rearing.
"The geographic road trip is a representation of how, when you have a kid coming, you examine everyone else's child rearing," said Eggers.
"You try to figure out what kind of parents you want to be," said Vida.
Place and commitment
A coming-of-age story for thirtysomethings, the movie grapples with what it means to start a family in the age of divorce, equal parenting and in-vitro fertilization.
"It's about finding a place and commitment," said Mendes, the director, who added that he was first struck by the story's "innocence, sweetness and joy."
A longtime Eggers fan, Mendes sought out the script and, in early 2008, offered to direct. A deal was struck and, at rehearsals, Eggers and Vida quickly gained a reputation as blunt collaborators.
"They are quite tough with each other," said Mendes. "I witnessed them in rehearsals saying, 'No, no, no. That's no good' to each other when they'd come up with an idea."
Eggers and Vida shy away from talking about their own respective writing styles. (Asked about their different approaches, Eggers joked he was the "better typist.") But they're clearly delighted with "Away We Go." They said they relished the give-and-take of moviemaking and noted that they would be open to writing another script.
Are they tempted to run away to Hollywood and give up books all together?
The couple laughed uproariously. Vida explained that she had just completed "The Lovers," a novel due out next year. Likewise, Eggers has finished "Zeitoun," a nonfiction book set for release this summer.
With that, the interview came to a close; the couple ducked into the drizzly evening to rush off to the theater. They're not entirely sure what the future will bring.
But they promise they'll be writing books.
"For me, books offer the deepest, richest experience of any medium," said Eggers, suddenly serious and offering a glimpse of the dedicated writer. "Nothing else can compare."
Copyright 2018 The Lawrence Journal-World. All rights reserved. This material may not be published, broadcast, rewritten or redistributed. We strive to uphold our values for every story published.