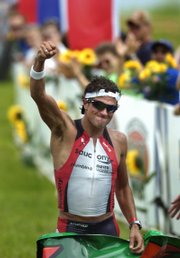 Organizers of the second Ironman 70.3 Kansas say many eyes will be on Lawrence and Clinton State Park this weekend as 2,000 triathletes swim, bike and run in Douglas County.
"We've collected one of the most competitive fields of all the Ironman races this year," race director Ryan Robinson said.
Among the field will be Ironman world champions Chrissie Wellington and Tim DeBoom, and Robinson said they would be one attraction during a weekend packed with events.
The race begins at 6:30 a.m. Sunday when triathletes dive into Clinton Lake to swim 1.2 miles. From there they will bike 56 miles in Douglas County, and then run 13.1 miles at Clinton State Park.
But the festivities will begin long before that. Here's a preview:
• An event expo complete with military recruiters and vendors will be open from 3 p.m. to 6 p.m. Friday at the park's campground No. 3, west of Lawrence. The expo will continue from 11 a.m. to 4 p.m. Saturday and during and after the race Sunday.
• The Rock Chalk Run — 5K and 10K races at the park — will begin at 8 a.m. Saturday to raise funds for the Lawrence Health Care Access clinic. Runners will not need to pay the state park entrance fee. More information is available at www.rockchalkrun.com.
• On Sunday, race spectators and volunteers can park in a lot north of the park near East 700 Road and North 1400 Road and ride a shuttle bus to the race course.
The military is also a major theme in this year's Ironman 70.3 Kansas race. About 200 competitors representing five military branches will compete in a special Armed Forces Challenge bracket during the race.
Brig. Gen. Edward Cardon, of Fort Leavenworth, is also scheduled to present special Ironman coins to military competitors. Members of the American Legion Riders will also lead the bike portion of the race on their motorcycles.
"We promote patriotism and awareness," said Charles Loch, of Belton, Mo., and director of the riders chapter. "That'd be fitting right in with what we do."
Copyright 2018 The Lawrence Journal-World. All rights reserved. This material may not be published, broadcast, rewritten or redistributed. We strive to uphold our values for every story published.