-->
On the street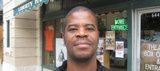 Macadamia, I like them in my cookies.
WHERE ARE THOSE PISTACHIOZ?
Nut Nation snacks are available in Lawrence at the Community Mercantile, 901 S. Iowa, and at Pendleton's Country Market, 1446 E. 1850 Road. They also can be found at Steve's Meat Market, 32685 Lexington Ave. in De Soto and on the Web at www.nutnation.net.
-->
-->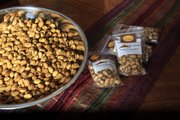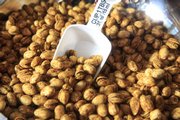 The idea seemed simple enough: Take a popular snack nut, add copious amounts of savory garlic and park the nuts in a smoker long enough to impart the kind of campfire-night goodness that adds up to nothing more than addictive.
Just like that, Nut Nation was born.
Nut Nation, home of "Smoked Pistachioz," is the brainchild of Lawrence resident Kathy Prather, who, since launching the business in March, has got her smoked nuts into stores around Lawrence and the country, counting clients from New Jersey to Wyoming.
Prather began her business out of necessity. In November, her husband, Kim, was laid off from his job. A stay-at-home mom to stepdaughter Zoe, Prather wanted to start making money but didn't want to do anything that would take up time away from her family. A former business owner — she ran an insurance company — and a licensed nutritionist, Prather knew she wanted to do something with food, but it had to be healthy, and it had to provide her with part-time status.
Prather began calling up self-employed friends to get the lowdown on starting a food business. One of the first business-owners to answer the phone? Jean Younger, owner of the Lawrence-based Sleepy Jean's Confections and Prather's neighbor.
"I kind of went down a list of everything that she'd need to do," Younger says. "And I gave her contact numbers and people that I'd used or talked with, just to kind of give her a leg up, so that she didn't have to repeat the whole process that I had to go through.
"She has done really, really well. She hasn't needed much — she had a great product to start with."
Younger also has shared her space, allowing Prather to work in the certified kitchen that she has attached to her home, as well as allowing her to also work alongside her in her booth at the Lawrence Farmers' Market. There, Prather has given out free samples of her original zesty garlic nuts to passers-by, trying to prove that these weren't just run-of-the-mill pistachios. These were Pistachioz — smoked in three dedicated smokers (meaning no meat is cooked in them) with Prather's special blend of spices and smoker chips.
"When we're at the Farmers' Market, people were coming up and saying, 'Well, what is this?' And it's like, 'They're really different from anything you've ever had,'" Prather says. "You had people coming up and saying, 'Oh, pistachios.' And it's like, no, no, no, it's not just 'Oh, pistachios.'"
And what's exactly behind that 'z' in Pistachioz? It's more like the who: Zoe.
The 10-year-old is quite involved in her stepmother's business. She bags and labels the nuts, and she also is a happy quality-control expert who finds regular pistachios, like the ones she had recently with a friend, well, plain these days.
"It didn't taste the same," she says, before shelling a few Pistachioz for herself.
So, now that the smoked zesty garlic nuts are a hit, what's next? First up is another flavor added to the Pistachioz line — curry mango, which will come out within the next month or two. In fact, Prather's "research and development" taste-tester (her husband, Kim) will be trying out any number of possible flavors combinations that Prather keeps in a list. Among the candidates? Ranch, chipotle lime, wasabi and taco.
Another possibility is a joint venture with Younger, who, of course, is a natural choice, given their shared kitchen space.
"We're going to try to make a toffee," Younger says. "It's really good with my original caramel, we put those two together messing around. ... I thought if I went further and made the caramel into more of a toffee with her nuts in it, it would taste really good."
For now, though, Prather is moving forward by trying to get moving, literally: She's looking into obtaining a mobile unit. It would be a sort of trailer that will allow her to take her Pistachioz around the country, so she can truly live up to the company's slogan: "Nurturing the nation one nut at a time."
Prather is quick to point out that she means every word of the slogan, explaining that pistachios tend to lower cholesterol — a claim backed up by a 2008 study in The American Journal of Clinical Nutrition by Penn State researchers — and spelling out that she uses wood chips rather than charcoal in her smokers for anyone who has concerns about that.
"I've always been interested in food since high school," Prather says. "I didn't want to open a restaurant ... but I thought if we could come up with some kind of food that everybody liked, you know we could do that and have something to be able to sell that people really enjoy."
Count Younger as a fan. She admits to having to hide the trial nuts Prather gives her so that she won't overindulge.
"Oh, God," she says. "I love them."
Copyright 2018 The Lawrence Journal-World. All rights reserved. This material may not be published, broadcast, rewritten or redistributed. We strive to uphold our values for every story published.