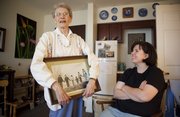 Joanne Ramberg can't recall a time during her 62-year career when she wasn't needed as a registered nurse and educator.
"I never had to write a résumé," she said, laughing. "Isn't that something? I've always gotten a job as long as I had that nursing license."
The 83-year-old Lawrence resident recalled her long nursing career during an interview in her apartment at Pioneer Ridge Retirement Community.
She still remembers the big sign that lured her into the Cadet Nurse Program in Minneapolis during World War II.
"It said, 'We want you,' and it pointed right at me and I thought, 'That's where I will go,'" she said.
She said the program provided a wonderful education for free. It paid for her books, uniform, room and board, shoes and even a coat for winter.
"They didn't hold back on anything because they were short of nurses," she said.
The government even paid her $25 per month.
"That was a lot of money at the time," she said.
She graduated from the program in 1947 and paid back the country by working in a veterans hospital in Minnesota. She said it wasn't long before nurses were needed in other hospitals across the U.S. as well, so the government said she could work wherever she wanted.
For about 25 years, she worked in both large and small hospitals.
She particularly remembers learning a lot at a small hospital in Hannibal, Mo.
"I did everything," she said.
Ramberg worked in the operating room and emergency room and delivered babies. She told stories about delivering a baby in the back seat of a car and on a gurney. Often, the doctor wouldn't make it in time so she would be on her own.
"It was not hard. If the baby is going to come, it is going to come whether you are ready or not. You just hope that nothing goes wrong," she said.
'Different world'
She said the Hannibal hospital didn't have a recovery room and she felt she had enough nursing experience to address the situation with her superiors.
"That's when I felt real cocky, especially when I was in charge of the operating room and I wanted a recovery room," she said, grinning.
Hospital officials agreed. She told the doctor what they needed and he ordered it. Soon after, patients were moved from hallways to a recovery room.
She was an emergency room nurse before there a vaccination for polio, a disease that crippled and killed many — mostly young children.
"I got to know those preliminary symptoms," she said of the numbness and stumbling. "We had to send them by ambulance to St. Louis where there was a special unit for them."
Ramberg said the first antibiotic available was sulfa. American soldiers used it on open wounds in the fields.
Then penicillin came along.
"Finally, the chemical companies got into the act and they started bringing on more drugs," she said. "They started doing research."
Ramberg got teary-eyed as she talked about how far medicine has come over the years and the lives it has saved.
"I get kind of emotional about medicine because I think it's such a miraculous way to get cures and care to people when they need it."
She said equipment to measure blood pressure and body temperature has greatly improved.
"It's a whole different world," she said. "Technology has changed a great deal."
Rewarding career
Ramberg said her nursing career allowed her to raise six children because she could work various hours and shifts — even full time or part time. It also was easy to find a job wherever her husband's job took them. They lived in Minnesota, Missouri, California and Kansas. Besides working in hospitals, she also worked for the Kansas Department of Health and Environment and assessed people living in nursing homes in Shawnee County.
In 1970, she began working for the Topeka State Hospital, where she worked with Dr. Karl Menninger. Ramberg said she helped him write the state's first licensed mental health care program. That's where she became interested in psychology and child behavior.
At age 46, she earned a bachelor's degree at Washburn University in 1972. She went on to earn a master's degree and doctorate, both in psychology, from Kansas University in 1974 and 1980, respectively.
"I never stopped," she said of getting more education. She said she picked up courses throughout her life.
From 1972 to 1993, she taught courses at Washburn University and was even head of the mental health program during part of that time.
Since 1993, she has retired four times. But she was lured back into teaching at Washburn, where students called her "Doctor Jo." She even returned after surviving a battle with cancer in 2000.
Her last retirement party was a few weeks ago. She retired from a part-time position as a child health assessment coordinator. The position was paid through a state grant that wasn't renewed.
As she looked back on her career, she said she wouldn't do anything differently. She witnessed life and death, and passed along her life experiences to new nurses.
"I have no regrets," she said, shaking her head.
Copyright 2018 The Lawrence Journal-World. All rights reserved. This material may not be published, broadcast, rewritten or redistributed. We strive to uphold our values for every story published.