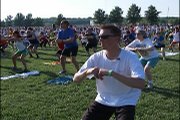 Editor's note: Reporter Mark Boyle takes us behind the scenes of news stories in the area. This week, he finally accepted the challenge to complete a "Dog Days" workout. Mark joined the hundreds of people in attendance at Kansas University's Shenk Recreational Sports Complex on Wednesday for what would be a memorable afternoon in Lawrence. The day was hot, the workout rigorous and certainly far more difficult than many had promised Mark it would be.
Nearly 3,000 people gathered at KU's playing fields at 23rd and Iowa streets last week for what has been dubbed the "World's Largest Community Workout."
After receiving a wristband and a quick session of calisthenics, I sought out the event's founder, Don "Red Dog" Gardner, in hopes of receiving some insider tips for success.
"If I see you out there, I will pick on you," said Gardner, who has been holding the free workouts for 26 years and was amazed at Wednesday's turnout, which was nearly twice as high as he had expected. "I told the others I am in awe, I am just overwhelmed, I can't believe it but it's fun."
As Gardner barked out commands to the workout's largest crowd ever, I struggled to keep up with the likes of many longtime attendees, some of whom were more than half my age. Even as a first-timer, it was clear to me that this workout tradition has made a place for itself in the Lawrence community, while strengthening an initiative called "Live Well Lawrence."
Sit-ups, push-ups, lunges and some exercises I didn't even know existed were done to the best of my ability.
Many working out near me said that is all that's expected from a "Dog Days" participant — all pride aside, of course.
"There is no shame in quitting a workout early," said Jacob Ornburn, who was participating in his second Dog Days workout.
Many agreed that everyone should proceed at his or her own pace.
"I think it's just something that I've done every summer to stay in shape and I really like the program," said Chelsea Ornburn, who is in her ninth year as a participant. "I think it's a great thing for Lawrence."
The final sign-up sheets tallied 2,766 attendees, which is more than three times the event's previous total for a single workout.
It's a local record that organizers hope to shatter next year, while also working to certify the workout as a world record in "Guinness World Records."
All indications are that the feat won't be difficult to accomplish.
Copyright 2018 The Lawrence Journal-World. All rights reserved. This material may not be published, broadcast, rewritten or redistributed. We strive to uphold our values for every story published.