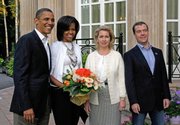 Moscow — Presidents Barack Obama and Dmitry Medvedev confidently committed to a year-end deal to slash nuclear stockpiles by about a third on Monday, but the U.S. leader failed to crack stubborn Kremlin objections to America's missile defense plans — a major stumbling block to such an agreement.
Both men renewed pledges to pull U.S.-Russian relations out of the dismal state into which they had descended during the eight years of the Bush administration. And to that end, they signed a series of agreements and joint statements designed to enliven and quicken contacts on a broad range of issues — including cooperation on Afghanistan, a key Obama foreign policy objective.
Obama said the leaders both felt relations had "suffered from a sense of drift. President Medvedev and I are committed to leaving behind the suspicion and rivalry of the past."
His host expressed similar good will.
"This is the first but very important step in improving full-scale cooperation between our two countries, which would go to the benefit of both states," the Russian leader said. But he injected a note of caution, saying discussions so far "cannot remove the burden of all the problems."
There was no statement of Russian readiness to help the United States persuade Iran to abandon its nuclear ambitions, even though Obama's top Russia adviser, Michael McFaul, told reporters in a post-meeting briefing that Iran dominated the two leaders' private meeting that opened the summit. Talks continued in an expanded session that included 12 advisers for each president.
For all the upbeat public statements, a pall of disagreement on missile defense and NATO expansion lingered over the glittering Kremlin hall where Obama and Medvedev answered reporters' questions. Obama said the meetings had been "frank," diplomatic speak for difficult.
Obama sits down today with Medvedev's patron and predecessor as president, Prime Minister Vladimir Putin, the target of a verbal poke from the U.S. president last Friday. In a pre-summit interview with The Associated Press, Obama said Putin still had one foot in the old, Cold War way of doing things.
While Medvedev insisted on Monday that a replacement to the keystone START I nuclear arms reduction treaty, which expires Dec. 5, must be linked to Russian concerns about the U.S. missile defense program in Eastern Europe, it remained unclear whether the Kremlin was prepared to scuttle the negotiations over that issue.
Gary Samore, Obama's chief adviser on weapons of mass destruction and arms control, told reporters he did not believe the Russians were prepared to walk away.
"I think at the end of the day — because our missile defense does not actually pose a threat to Russia's strategic forces — I think they'll be prepared to go ahead without trying to extract a price on missile defense."
And McFaul said it had been made "crystal clear" from the beginning that negotiations about a START replacement would not include any missile defense issues.
Washington insists the defense program is designed only to protect European allies from missile attack by Iran.
Hoping to ease Kremlin concerns, Obama promised that an assessment of whether the missile defense would actually work would be finished by late summer, earlier than expected, and that he would share initial U.S. thoughts with Medvedev.
Obama also said he understood in principle that arms control must take into account both offensive and defensive weapons. But he insisted the missile defense installations planned for Poland and the Czech Republic would pose no threat to Russia. He said they were not being built to intercept missiles from "a mighty Russian arsenal."
Copyright 2017 The Associated Press. All rights reserved. This material may not be published, broadcast, rewritten or redistributed. We strive to uphold our values for every story published.