Photo Gallery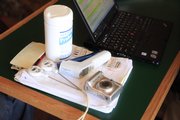 A food inspection underway in Lawrence
The Kansas Department of Agriculture oversees about 16,600 food operations, which includes 10,000 restaurants, 600 food processors and 40 ice cream trucks.
"We are doing every kind of food operation that you could imagine," said Lisa Taylor, communications director.
The department employs about 45 people to inspect these operations and make sure they are complying with food regulations.
KDA aims to post the results of every food inspection on its Web site within two weeks of the inspection being completed. Since it recently took over restaurant and lodging inspections, those only go back to Sept. 22, 2008.
Anything before that can be found on the Kansas Department of Health and Environment's Web site
The KDA postings are not as informative as the ones on KDHE, but Taylor said the department is working on that. The department hopes to have the full report of each inspection available "sooner than later" and definitely within the year.
"If it says you have evidence of rodents, what I create in my mind is probably going to be a whole lot worse than the situation that exists," Taylor said. "I think having additional detail is going to be very useful for the consumer and user of the Web site."
How should a consumer look at the postings now?
"An inspection is a snapshot in time. It's the conditions that existed in that facility at that moment on that day. It doesn't mean it is always like that," Taylor said.
She encourages people to watch the inspection reports over time.
"If there are a series of inspection reports showing a higher number of critical violations, that would be a better indicator of a problem," she said.
Consumers can report food safety concerns by calling the Department of Agriculture at 785-296-7430 or 785-296-5600, or by using an online form. Douglas County residents also can call the Lawrence-Douglas County Health Department at 843-3060.
Copyright 2018 The Lawrence Journal-World. All rights reserved. This material may not be published, broadcast, rewritten or redistributed. We strive to uphold our values for every story published.