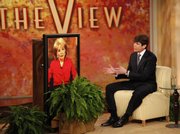 Springfield, Ill. — Gov. Rod Blagojevich's impeachment trial opened on Monday with a vacant chair reserved for the governor, who boycotted the proceedings and instead spent the day on the TV talk-show circuit in New York, complaining he is being railroaded.
As the Illinois Senate assembled for the first impeachment trial of a U.S. governor in more than 20 years, David Ellis, the House-appointed prosecutor, told the chamber that he will show that Blagojevich "repeatedly and utterly abused the powers and privileges of his office."
In one of his first orders of business, Ellis won approval from the Senate to summon as a witness an FBI agent who oversaw the profanity-laden wiretaps that led to Blagojevich's arrest on corruption charges last month.
With Blagojevich refusing to present a defense, Illinois senators could vote within days on whether to oust the 52-year-old Democrat on a variety of charges, including allegations he tried to sell the U.S. Senate seat left vacant by President Barack Obama.
Copyright 2018 The Associated Press. All rights reserved. This material may not be published, broadcast, rewritten or redistributed. We strive to uphold our values for every story published.