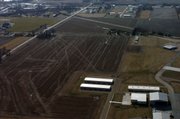 Douglas County commissioners on Monday pulled their support on how far planning regulations go in protecting prime agricultural land from industrial development.
"My main aim in asking for this resolution is not to be obstructionist," Commissioner Nancy Thellman said. "It's not to be a problem-maker but simply to ask for a fair amount of time for a new commission to study this chapter."
Thellman and Commissioner Charles Jones voted to rescind the past commission's support for a new industrial chapter to the county's major planning document, Horizon 2020. Commissioner Jim Flory was the dissenting vote.
After the November election, Thellman and Flory replaced Commissioners Bob Johnson and Jere McElhaney.
After the election — but before Thellman and Flory took office Jan. 12 — Johnson, McElhaney and Jones reached a compromise that protected prime agricultural land. But that compromise left open the possibility of industrial development near Lawrence Municipal Airport.
Neighbors and other opponents of the airport plan have sought stricter language to make it more difficult to develop there.
Last week, Thellman said she wanted the new commission to weigh in. She had campaigned on protecting prime agricultural soils.
Flory supported the earlier commission's decision, and he said more discussions about protecting farm ground would be a big part of current discussions about Horizon 2020's environmental chapter.
"The only conclusion I can reach is that this urgent desire to amend is project-driven and, quite frankly, I don't think that's the way to accomplish long-range planning," he said.
But Jones supported opening up the discussion again based on how voters supported Thellman in the election.
"It's not an endorsement of the new direction," Jones said.
The commission could reach the same decision on the language, or it could go for another revision. Monday's action means the city and county are once again at odds on the issue.
Last week, the city voted 3-2 to support the county's earlier stance. City commissioners are scheduled to consider the second reading of the plan Tuesday night, but Scott McCullough, the city's director of planning and development services, said city commissioners could decide to defer the issue, based on what the county did.
Thellman indicated the discussion would come back to the county in weeks.
Copyright 2018 The Lawrence Journal-World. All rights reserved. This material may not be published, broadcast, rewritten or redistributed. We strive to uphold our values for every story published.