Photo Gallery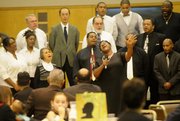 Martin Luther King Jr. Day
On the eve of the inauguration of Barack Obama, the country's first black president, Lawrence residents Monday celebrated the life of civil rights leader Martin Luther King.
"You just don't give up. You just keep going one step at a time and keep doing what you can, where you can, for as long as you can with as many people as you can," said the Rev. Leo Barbee Jr., pastor of Lawrence's Victory Bible Church.
Kimberly Ventus-Darks, a speaker and author from Cincinnati, focused on unity during her keynote address to about 200 people gathered at the Kansas Union.
"He was African-American, but he loved every race," Ventus-Darks said during her emotional speech.
King, who was born 80 years ago, balanced several qualities, she said. He was humble, yet he showed strength in his endeavors, she said.
"It's not over tomorrow. It's just the beginning," Ventus-Darks said.
The 2009 King celebration, organized by Ecumenical Fellowship churches, the Lawrence Association of Evangelicals and others, was a joyous celebration, filled with singing.
Several leaders in the Lawrence community said it was surreal to celebrate King's life the day before Obama takes office.
"It will touch the lives of many and help our nation march ahead in realization of an idea whose time has come," Lawrence Mayor Mike Dever said of the new president.
"Tomorrow, we will witness a big step forward in Dr. King's vision," said James Hilliard, the celebration's master of ceremonies.
The celebration's organizers presented community awards to Lawrence public schools Superintendent Randy Weseman and Kansas University Chancellor Robert Hemenway, both of whom will retire from their administrative positions at the end of this academic year.
In addition to praising King's civil rights achievements, others focused on performing community service projects Monday, such as at the KU campus, at Lawrence Memorial Hospital or the Lawrence Community Shelter, 214 W. 10th St.
"This is a day of service, and this is what we want to do to honor that legacy and make sure that we have people commit to lifelong public service," said Chelsea Mertz, a KU junior from Topeka, who helped organize a food and clothing drive for Lawrence charities.
Copyright 2018 The Lawrence Journal-World. All rights reserved. This material may not be published, broadcast, rewritten or redistributed. We strive to uphold our values for every story published.