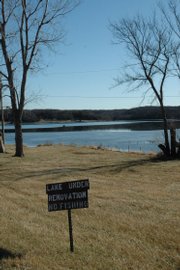 Baldwin City — After three years of waiting, anglers once again were able send lines into the waters of the Douglas County State Fishing Lake on Saturday.
The lake has been closed to fishing since it was drained in 2006 to allow for repairs to the dam and other improvements. As the lake started to fill back up, Kansas Wildlife and Parks Fisheries Biologist Richard Sanders began a restocking program that included largemouth bass, channel catfish and crappie.
Everything worked out as planned, said Chuck Bever, regional fisheries supervisor for Wildlife and Parks.
"We're there, almost," Bever said from his Topeka office Monday. "We sampled the fish population in October. The survey shows there are channel catfish ready to harvest, but not largemouth bass, although you could catch and release those."
There are length limits on those fish, 18 inches for bass and 15 inches for channel cat. Longtime Baldwin City resident Gene Nelson, who runs the Sports Cache Bait and Tackle Shop, is ready to get back to fishing.
"I'm real happy," Nelson said last week. "That's great. You might well find me there Saturday."
Before it was closed, Nelson was a regular at the lake just north and east of Baldwin City.
"I got out there three or four times a week," he said. "The crappie fishing was excellent. You could be out there for 30 minutes of fishing and be back in town in an hour."
In October 2006, Sanders stocked 200 to 250 largemouth bass ranging from 6 to 12 inches long. There had already been 15,600 bluegill fingerlings, 4,000 redear sunfish and 1,250 channel catfish stocked the previous month. Fathead minnows were stocked in August of that year.
Nelson has seen similar projects at other area lakes and knows it will make a difference here.
"I think it's going to be very attractive," said the retired Baker University biology professor. "This will make this a better place to fish, hopefully for a long time."
Improvements to the lake also included establishing fish habitat areas. Those included projects done by the Free State Fly Fishers Club that used PVC pipe configurations for fish habitat.
Anglers and others should also be reminded that there's another big change at the lake. When it was drained, alcohol was prohibited — that's any kind of alcohol, and the ban is the result of continued problems with trash.
Copyright 2018 The Lawrence Journal-World. All rights reserved. This material may not be published, broadcast, rewritten or redistributed. We strive to uphold our values for every story published.