Photo Gallery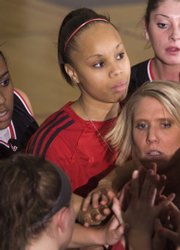 LHS girls vs. SMN
As if the Lawrence High girls needed another reminder of what they were missing with senior forward Tania Jackson out for the season, the Lions faced a Jackson clone on Tuesday night in the form of Shawnee Mission North junior Brianna Kulas.
Kulas, who even missed two separate stints of Tuesday's game with injuries, scored 19 points on 7-of-8 shooting and flashed the same kind of silky-smooth inside and outside game that Jackson displayed during last year's run to the Class 6A state title.
The irony of it all: Jackson said she and Kulas are best friends.
Without Jackson in the lineup, however, Kulas was unkind to the rest of the Lions, hitting her first six shots of the game and finishing with 19 points despite sitting out more than a quarter of the action because of early foul trouble and nagging injuries.
Kulas wasn't alone in having her way with the Lions (9-10), as SMN junior Mary Pat Specht led all scorers with 20 points. The Indians (10-9) turned a 23-17 halftime lead into a runaway victory.
"We should've jumped on them from the get-go, and we didn't do it," LHS coach Kristin Mallory said. "We missed a couple of easy ones early on, and we handed them the ball a couple of times. They outhustled us, out-rebounded us, outshot us and played better defense."
The reason?
"I think our legs were just tired," said LHS junior Jasmyn Turner, who led the Lions with 15 points. "They said the floor was longer, but that's no excuse. We just didn't play as a team. I know it's late in the season, and it shouldn't be that way but for some reason it was."
LHS made plenty of uncharacteristic mistakes Tuesday. They airballed six three-pointers, committed 14 turnovers and shot just 16-of-52 (31 percent) from the field.
"We still have time to get it together," Turner said. "We just have to forget about this one and get ready for Free State."
The LHS boys and girls will play host to Free State on Friday in the regular-season finale for all four teams.
Copyright 2018 The Lawrence Journal-World. All rights reserved. This material may not be published, broadcast, rewritten or redistributed. We strive to uphold our values for every story published.