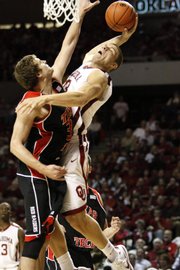 The Big 12 Conference had six teams get into the NCAA Tournament a year ago, including eventual national champion Kansas University and regional finalist Texas.
Matching that number this year could prove to be difficult.
With three weeks left until the Big 12 tournament in Oklahoma City, the conference has three teams well on their way to the NCAA Tournament and three that have almost no shot, leaving a big group still with some work to do.
"Everybody's playing for high stakes right now," Texas assistant coach Russ Springman said Monday during the Big 12 coaches teleconference. "Some teams are fighting to get in, some teams are playing for the highest seed they can possibly get; everybody's playing for high stakes."
Oklahoma should have no problem getting in. The Sooners have national player of the year candidate Blake Griffin and clearly have been the best team in the conference, winning 13 straight games, including the first 11 in the Big 12. The only question left for the second-ranked Sooners is whether they can earn a No. 1 seed in the NCAA Tournament.
Kansas and Missouri also would seem to be locks. The Jayhawks reached the 20-win mark (20-5) for the 20th straight year and are still in the hunt for a fifth-straight Big 12 title at 9-1. The Tigers, who haven't been to the NCAA Tournament since 2003, are 22-4 and had impressive wins over Texas and Kansas over the past two weeks.
At the bottom end, Iowa State, Texas Tech and Colorado have combined to win five conference games. Winning the Big 12 tournament is their only chance at this point.
As for the rest of the conference, there are still some questions.
• Texas. The Longhorns are 17-8 and 6-5 in conference, which should put them in good position to make the tournament for the 11th straight year. But Texas also had a three-game losing streak, including two at home, to drop out of the polls after being as high as fifth. Another losing streak or an early-round slip-up in the Big 12 tournament and the Longhorns could find themselves in the NIT — unlikely, but still within the realm of possibility.
"Our focus won't change. We always talk to our players about playing one game at a time," Springman said. "We talk to our guys about getting better every day and focusing on the next opponent, not worrying about two or three or games later."
• Kansas State. Behind All-American Michael Beasley, the Wildcats reached the NCAA Tournament last season for the first time in 12 years. With Beasley and Bill Walker gone to the NBA, Kansas State appeared to have no shot at a return trip after a weak nonconference schedule and an 0-4 start to the Big 12. The Wildcats (17-8) rallied to win six straight and are 6-5 in conference after losing to rival Kansas on Saturday, meaning a strong finish to the regular season and a win or two in the Big 12 tournament might get them in.
• Nebraska. The scrappy Cornhuskers (15-8) created a buzz in football-crazed Lincoln by beating then-No. 16 Texas on Feb. 7, pushing their winning streak to three games after a 2-3 start to conference. A 23-point loss to Missouri over the weekend dropped Nebraska to 5-5, so the final six games will be crucial.
• Oklahoma State. The Cowboys (15-9) looked good early playing in first-year coach Travis Ford's up-tempo style, opening 11-3 in nonconference, but they have been inconsistent in the Big 12, falling to 3-6 after a road loss to Texas last Tuesday. A win over Iowa State on Saturday and an attitude adjustment should help.
"We allowed ourselves and our players to make excuses," Ford said. "Rather than looking at all the things we do have, we've been looking at the things we don't have."
• Baylor. The program's first trip to the NCAA Tournament in 20 years lifted expectations for this season, and a 16-3 start had everyone eyeing a return trip. Then came a six-game losing streak. A physical win over Texas A&M; on Saturday helps, but the Bears (16-9) have some ground to make up at 4-7: No Big 12 team has gone to the NCAA Tournament with a losing conference record.
• Texas A&M.; The Aggies made it to the second round of the NCAA Tournament a year ago and were 14-1 headed into the Big 12 this year. But things haven't gone well so far in conference play. Texas A&M; opened 1-4, then followed a two-game winning streak with three straight losses. At 4-7, one more loss is probably all the Aggies (18-8) can afford to have any shot at an at-large bid.
Copyright 2018 The Associated Press. All rights reserved. This material may not be published, broadcast, rewritten or redistributed. We strive to uphold our values for every story published.