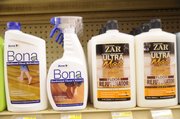 If your unwaxed wooden floors are scratched and dull but basically still in good condition, you can refinish them in a day with the help of a high-quality, waterborne, oil-modified floor finish.
Test your floor for wax by pouring a small amount of water onto it in an inconspicuous area. Wait 10 minutes before wiping up the water. If the surface turns white, chances are you have wax on your floors, which will need to be removed completely before continuing.
Step 1: Lightly sand any rough floor surfaces with a sanding sponge or pole sander. Be sure to sand in the direction of the grain.
Step 2: Vacuum up all loose dirt and thoroughly clean the floors with an oil-free cleaner such as Dirtex or Bona floor cleaner. Allow the floor to dry completely before proceeding.
Step 3: Using a long-handled synthetic applicator, and working in the same direction of the wood grain, apply a thin coat of the waterborne refinishing product. Work in 4-by-4-foot sections, moving toward an exit. Be careful to apply the product evenly and smoothly. If there are no air bubbles or imperfections you will not need to sand between coats.
Step 4: Allow the product to dry for two to three hours and then apply a second and third coat in the same manner.
Step 5: Wait 24 to 48 hours for the product to cure before placing furniture or heavy objects back on the newly refinished floor.
Open your curtains, turn on your lights and let the sun dance in glory upon your shiny new floor.
Copyright 2018 The Lawrence Journal-World. All rights reserved. This material may not be published, broadcast, rewritten or redistributed. We strive to uphold our values for every story published.