Photo Gallery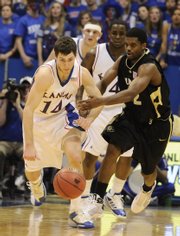 KU vs. Colorado
Audio Clips
2009 KU-CU Jan. 31
Colorado senior Jermyl Jackson-Wilson admitted that Saturday's 66-61 loss was his best experience in Allen Fieldhouse.
"I can say this is the first time I have been here where they didn't start singing that song with 10 minutes to go," Jackson-Wilson said with a laugh, referring to KU's Rock Chalk Chant. "It is a big improvement for our team, and, obviously, we have to grow from this, but I want to win."
The last two years when Jackson-Wilson came to Lawrence, his team was blown out. KU won, 97-74, in 2007 and 69-45 in 2008.
Thanks to a second-half comeback Saturday, the Buffaloes trailed by just two with six minutes remaining.
"You only get to play here once a year, so we decided to give it all we had," Jackson-Wilson said. "We just kept scrapping away at the lead and chipping away and finally got it down to single digits."
The Buffaloes would have had a chance to tie it with a three at the end of regulation if not for a tough shot by Sherron Collins.
With KU leading by three, Collins hit an off-balance floater with 24 seconds left to make it a two-possession game.
"It was contested. Give him credit," CU guard Cory Higgins said. "He made a big-time play and made a big shot."
Added CU coach Jeff Bzdelik: "That is a great young talent making a great play. We forced him into a tough shot. And give him credit. He is a very talented young man that I have the utmost respect for.
"He earned it. We didn't give it to him. That's all you can do."
CU also was hurt by uncharacteristic misses at the free-throw line.
Higgins missed the front end of two one-and-one opportunities — including a crucial one with CU down five and 5:39 remaining.
Coming into the game, he had made 36 of his 39 free-throw attempts (92.3 percent) in Big 12 play.
"I expect to make every one," Higgins said. "It just didn't fall tonight."
The Buffaloes still put together a solid second half to trim KU's 21-point second-half lead to two.
CU made 15 of 23 shots (65.2 percent) and also out-rebounded KU, 14-12, in the second 20 minutes.
"We came to a hostile environment, we were down by a lot, and we came back and showed poise," CU guard Dwight Thorne II said. "I think we grew up a little bit in the second half."
The Buffs also held KU center Cole Aldrich to just two second-half points on 1-for-5 shooting. Aldrich had 13 points and nine rebounds before halftime.
"We just tried to get more pressure on the ball," Jackson-Wilson said. "When he caught the ball, just make him make shots instead of gambling for balls — making him make shots over us. He's 6-11, 6-10, or whatever, but it's 50-50 once you turn around and try to shoot it."
Jackson-Wilson had a strong second half individually, often taking the ball right at Aldrich. The 6-foot-6 forward had eight points on 4-for-4 shooting in 17 second-half minutes.
In his final game at Allen Fieldhouse, he ended with 12 points and five rebounds in 27 minutes.
But he also left with a loss.
"When they come to Colorado, it's half Kansas — as a matter of fact, it's probably three-fourths Kansas people," Jackson-Wilson said. "Now, it's their real home court. I just wanted to go away with a win. Obviously, I didn't get that, but you look forward to coming here.
"It's great tradition here. I haven't been so successful here in the past. This is the best game my team has played, but hopefully they can get a win here next year."
Copyright 2018 The Lawrence Journal-World. All rights reserved. This material may not be published, broadcast, rewritten or redistributed. We strive to uphold our values for every story published.