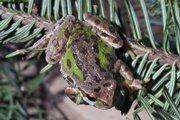 Anchorage, Alaska — Forget the plastic icicles, brightly colored balls and tinsel.
Some Christmas trees for sale in the Anchorage area are adorned with something truly different this holiday season: live Pacific Chorus frogs.
While the small frogs can be very cute, measuring an inch or two with lovely moss-colored green sides and black spots, state officials are asking residents to practice some tough love: If you find a Christmas tree frog, kill it.
So far, the Alaska Department of Fish and Game has received reports of two amphibious hitchhikers. One of them was hiding out on a holiday tree from Washington state that was sold this week at an Anchorage nursery.
The frog ended up in the biology department at the University of Alaska Anchorage.
"They identified it as a Pacific Chorus frog," said Tracey Gotthardt, a zoologist with the university's Alaska Natural Heritage Program. The frogs are found from British Columbia to southern Baja California, but are not native to Alaska.
"No one is in panic mode over this but we are taking it seriously," said Jennifer Yuhas, spokeswoman for the Alaska Department of Fish and Game.
That's because the cute frogs — whose joyful chorus is often used for movie soundtracks — could be carrying some ugly viruses and funguses, including chytrid fungus that is devastating amphibians around the world.
"Our immediate concern is that if a frog does hop out of a tree and they decide to keep it as a pet over the winter, they must keep it forever. We don't want them being released into the wild," Gotthardt said.
Yuhas said it's not that Alaskans are heartless, but it's a matter of protecting our own.
"I know they are awful cute but pets or small children are known to put things in their mouths," she said.
The Alaska Department of Fish and Game is suggesting two methods of dispatch: death by a dab of Orajel applied to the head — the tooth desensitizer apparently knocks them out for good — or putting the little critter in a plastic bag and placing it in the freezer.
Copyright 2018 The Associated Press. All rights reserved. This material may not be published, broadcast, rewritten or redistributed. We strive to uphold our values for every story published.