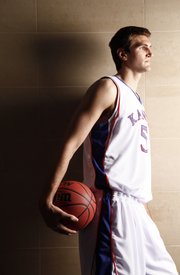 The long, long wait is over for Jeff Withey, who Saturday will be eligible to play in the first game of his college basketball career.
"It's been too long," exclaimed Withey, Kansas University's 7-foot, 230-pound freshman center, who last competed in a game with refs in March of 2008 at San Diego's Horizon High.
He spent the first semester of the 2008-09 school year at the University of Arizona before moving on to KU, where he has sat out the first nine games of the 2009-10 season in accordance with NCAA transfer rules.
"I'm excited, really excited. I'll have goosebumps all night," Withey said, realizing it'll be tough to sleep tonight in anticipation of Saturday's 11 a.m. home game versus Michigan. "It's my mom's birthday, so it's a great present for her."
Debbie Withey, who is a third-grade teacher at Farley Elementary School in Topeka, and Jeff's dad, Mike, who is in the construction business, will be in the Allen Fieldhouse stands Saturday, along with Jeff's older sister, Michelle, who played college volleyball at Oral Roberts.
Withey's high school coach, Waheed Mitchell, can't attend, but will be watching on TV.
"We have a big game Saturday as well," said Mitchell, who says he'll be here for a game or two second semester.
"One thing about Jeff is he's always been a winner," added Mitchell, who coached the Withey-led Horizon High squad to one state title and four straight sectional crowns.
"The lights are never too bright for him, the moment never too big. His first game is Michigan on national TV. He'll look at it for what it is. He takes everything in stride," Mitchell added.
Withey realistically isn't expecting to play much, if at all, versus the Wolverines. That's because he only has been practicing full-court for about a week now following his recovery from a stress fracture in his right knee.
"I'm just glad I'm going to be able to suit up," said Withey. He is expected to be cleared officially before game time once his 15 hours of grades are turned in and he's deemed eligible by KU compliance officials.
"I've been hurt, so it's going to be hard for coach (Bill) Self to have faith in putting me out there. I'm still trying to learn the plays. If I don't get in, I'm not going to be mad or anything. I understand completely.
"It's going to take me time for me to get adjusted to everything," added Withey, who averaged 20.8 points, 13.0, rebounds and 7.3 blocks while hitting 69 percent of his shots his senior year for 26-5 Horizon. "It'll probably be two or three weeks before I'm my normal self."
There are things Withey can bring to the table on a team already loaded with talented big men.
"He's a great shot-blocker. He blocks everything," forward Marcus Morris said. "He's a great volleyball player. He gets his hands on the ball a lot."
Withey, who played club volleyball as a youth in California, goes for rejections whenever he can.
"He blocked a lot of shots here — a lot," Mitchell said. "He knows where the spots are on the floor (to score), but he'll play defense no matter what. Defense comes naturally to him."
Self, who said Withey may not play a lot right away "just because other guys have a better understanding of what to do in certain areas," has seen some big-time defense from the big man at practice.
"He's a great shot-blocker. Cole (Aldrich) is a good shot-blocker, and Jeff blocks more shots than Cole daily," Self said. "Scoring over him (at practice) should help our guys become better offensive players. I think he's going to be really good."
Whatever happens ...
"Right now I'm just happy to be here," Withey said. "It's cold, but basketball-wise it's perfect. There's no place greater than this. Every game day I get pumped up, just sitting on the bench. It's a perfect place for me."
Copyright 2018 The Lawrence Journal-World. All rights reserved. This material may not be published, broadcast, rewritten or redistributed. We strive to uphold our values for every story published.