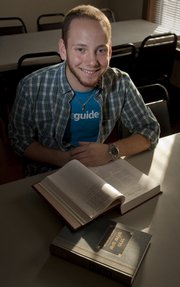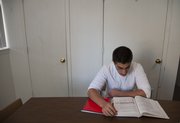 Past Event
When: Sunday, December 13, 2009, 6 p.m.
Where: South Park Recreation Center, 1141 Massachusetts St., Lawrence
-->
-->
The holidays are stressful — that's not rocket science. So are college exams, also not exactly an unknown phenomenon.
Now combine those two, and we're getting somewhere.
That's life for Jewish Kansas University students this year, as the faith's big year-end holiday, Hanukkah, began Friday evening and runs straight through to the end of finals week going just a day past the semester's end.
This year's coincidental clash of the religious calendar and academic one means balancing studying and projects with family, friends and religion, say Jewish students.
"It's hard to take time out of studying for finals to celebrate," says Steven Meyer, a KU sophomore from Omaha, Neb. "Which is rough, because it's like you have that kind of boundary where you want to be celebrating this holiday because it's important, but at the same time, you can't sacrifice time out of your studies."
Compound the idea of studying during the eight-day holiday with the fact that students from cities hours away, like Meyer, aren't able to get home for even one of the holiday's eight nights, and you have a recipe for one sticky situation on several levels.
"It couldn't be worse timing. Instead of getting to celebrate the miracle of oil lasting eight nights, I have to study my life away from eight nights, literally — Hanukkah starts sundown Friday, and I have finals all the way through next Friday," says KU senior Natalie Brown from Boulder, Colo. "So this year I don't get even one night with my family. I don't get to partake in all the fun traditions I've grown up with."
Studying and Shabbat
Meyer has four finals or projects due during the week of Hanukkah. Ironically, two of them are for classes that will help him fulfill his minor in Jewish studies.
"I have a big paper due for my poetry class, I have a Jewish secular culture final, I'm in a Hebrew class, and I'm sure we'll have a final for that, and I'm also taking my psychology class and I have a final for that," Meyer says. "It'll be a busy week."
Brown says that though Hanukkah during finals is an annoyance, it's actually the much shorter, but more serious, holidays that can clash the worst with school.
"The real big holidays in Judaism come at the start of the school year, Rosh Hashana, Yom Kippur and Sukkot. When those crucial holidays fall it's always the worst inconvenience," Brown says. "Those two days always fall on exams, and every Jewish student knows the awkwardness of trying to be excused to attend a day of services."
Away from home
Celebrating is another problem all together. For Meyer, it will be his first full Hanukkah away from home, but he's known quite a few other folks in the same boat: his fraternity brothers at the all-Jewish Alpha Epsilon Pi.
"It's hard, though, just because Hanukkah is one of those like family holidays — it would be like spending Christmas without your family," Meyer says. "I think it's a difficult holiday to celebrate away from home, just because a lot of it is family tradition and that kind of thing. Rather than just specific things that you're supposed to do that you can do anywhere, a lot of it does revolve around gift-giving and saying the different prayers and things like that with your family."
Also celebrating far from home is Brown, for whom it's nothing new, but still a challenge. She says she's broken fire codes just so she can light her menorah and even made sure to do it while driving down I-70 to Colorado.
"Last year, Hanukkah fell at the end of finals and my long trip back to Boulder," Brown says. "I didn't want to light the first night in my car during the eight-hour drive, so, I pulled off at my boyfriend's house and discreetly lit the first night candles there."
This year, she plans on celebrating with friends, going to the Chabad House's annual "Chanukah Bowl" tonight at the Jaybowl in the Kansas Union, and then other nights with friends. Also thinking of getting together with friends is Jonathan Hurst-Sneh.
"We'll probably just cook, some of the basic things we'd make are things like latkes, which are potato pancakes, and then just maybe a chicken dish and a potato dish and things like that, just getting maybe five or six people together," Hurst-Sneh says. "I don't know if it'll actually happen, but it's a wish."
Though he's not from too far away — he's a KU senior from Lenexa — Hurst-Sneh says that his family still has to change its Hanukkah plans often, because even though he could make the drive to Lenexa every night of the holiday, not everyone can, student or not.
"I'm going to back this weekend for a family celebration on Saturday, hopefully if the weather's not too bad, I'll be driving in," he says. "Usually, it'll fall after winter break time. So then I'll already be home but in this case I'm lucky enough to go home Saturday and then come back for finals week. It's hard to recall, but I think there have been times where we'll put off a family celebration and we'll kind of put it around the schooling of a lot of people in our family and make sure it doesn't conflict."
Brown says that's the trouble with the roving holiday, but it's part of the joy, too.
"That's the longtime Hanukkah joke, it's always either too early or too late — Hanukkah is never on time," Brown says. "And this year it's absolutely too early. Personally, I believe it's never too late — I'm a huge believer in snagging up all the after-Christmas sales.".
Copyright 2018 The Lawrence Journal-World. All rights reserved. This material may not be published, broadcast, rewritten or redistributed. We strive to uphold our values for every story published.