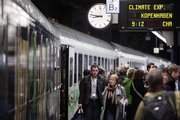 Aboard the Climate Express — A train splashed with a green stripe carried 450 U.N. officials, delegates, climate activists and journalists from Brussels to the climate summit in Copenhagen on Saturday to symbolize efforts to reduce the convention's carbon footprint.
More trains were leaving from other European capitals, and one was concluding a trip from Kyoto, Japan, through China and the Trans-Siberian route across Russia.
But symbols were all the trains could be. Most of the 15,000 people expected at the two-week conference opening Monday will arrive by plane from opposite ends of the globe.
The journey through Belgium, Germany and Denmark was intended to underscore what campaigners say is the need to switch to low-carbon economies and rely more on public transportation to reduce tailpipe emissions.
"Anyone who thinks it's impossible is wrong," said Achim Steiner, director of the U.N. Environment Program, noting Germany's move away from fossil fuels over the past 10 years toward greater use of wind, solar and hydroelectricity.
Railway officials claimed the trip is carbon neutral. They said the German railroad, Deutsche Bahn, bought the equivalent of the electricity needed to run the train from renewable sources and added it to the German electrical grid.
Traveling by train along the nearly 500-mile route emits 33 kilograms of carbon dioxide per person, compared with 115 kilograms by air, the officials said.
Led by France, high-speed rail is being extended through much of Europe, with trains moving faster than 155 miles per hour. Airlines say they plan to link up with railways to provide alternatives to short European flights.
Copyright 2018 The Associated Press. All rights reserved. This material may not be published, broadcast, rewritten or redistributed. We strive to uphold our values for every story published.