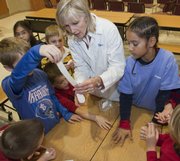 Sunflower School's science club got a glimpse into the life of a CReSIS researcher who lives in Antarctica and gathers data on the ice sheets in the southern hemisphere.
Carl Leuschen, assistant professor of electrical engineering at Kansas University, left Nov. 23 for a two-month stay in Antarctica. His wife, Marci, runs the science club at Sunflower, where their son Joe is a first-grader.
CReSIS — the Center for Remote Sensing of Ice Sheets — is examining how thick ice sheets are in Antarctica. Right now, Leuschen is based in McMurdo, a base for the United States that can house about 1,000 scientists.
"They're trying to get a handle on how fast these things are melting so we can predict future sea levels," said Marci, a former CReSIS member.
During a telephone conversation on Wednesday, the science club students got to ask Carl just about anything, from the temperature (32 degrees Fahrenheit at the time of the call) to how many snowball fights he's been in (none).
Some kids think they'd be willing to bundle up and get some work done near the South Pole.
"I think it's important to know what the glaciers do so then more people get interested in preventing global warming," said Ingrid Bruss, a fifth-grader. "I just love cold weather and snowy weather."
Others would rather stay inside.
"I don't want to sleep in one of those igloo things," fifth-grader Francisco Flores said.
Joe sent his dad down to Antarctica with an early Christmas present — a handheld Nintendo system.
"He can play it on the plane so he wouldn't get tired of doing nothing," Joe said.
The club — which focuses on getting kids interested in science, all while having fun — also did some icy experiments after their call from the tundra.
"That will hopefully spark their interest and get them interested in pursuing careers in science," Marci said. "Maybe soon they'll be the future scientists heading down to Antarctica and helping solve some of these problems that we've created."
To find out more about CReSIS, log on to cresis.ku.edu.
Copyright 2018 The Lawrence Journal-World. All rights reserved. This material may not be published, broadcast, rewritten or redistributed. We strive to uphold our values for every story published.