Dr. Jeffrey Randall, Lawrence, has been listed among 25 of the best knee surgeons in the country in the January issue of Becker's Orthopedic & Spine Review.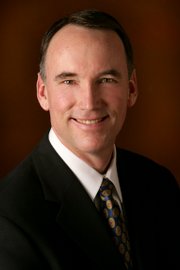 Randall works at OrthoKansas, 1112 W. Sixth St., Suite 124, and is the team physician and head orthopedic surgeon for the Kansas University Athletics Department.
He received his medical degree from KU, where he serves as an adjunct professor involved with research in the exercise physiology laboratory.
Randall is a member of many professional societies including the American Medical Association and the Kansas Bone and Tooth Society.
Becker's Orthopedic & Spine Review is a quarterly publication offering news and analysis on business and legal issues relating to orthopedic and spine practices. Each issue of the publication reaches more than 10,000 professionals in orthopedics and spine practice.
Randall was the only Kansas doctor named to the list.
Copyright 2018 The Lawrence Journal-World. All rights reserved. This material may not be published, broadcast, rewritten or redistributed. We strive to uphold our values for every story published.