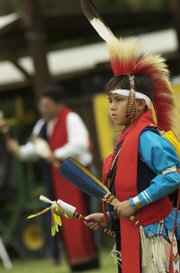 With the sun setting over the Haskell Pow-Wow Grounds and sounds of the Thundershield drum group drifting through the air, students at Haskell Indian Nations University were officially welcomed back to school Saturday evening.
As the color guard led a group of about 50 in the Grand Entry of dancers, the crowd was introduced to some of the school's more prominent members.
Haskell royalty, senate members and Fulbright scholars all paraded through the powwow grounds. They were followed by dancers wearing elaborate American Indian regalia — feather headdresses, bells, beaded jewelry, jingle dance dresses and blankets.
"I can't think of a better way to start off an academic year than with a powwow," Haskell professor Dan Wildcat told the crowd.
Saturday's annual Haskell Welcome Back Pow-Wow is a chance to greet the university's students who have come from as far away as Alaska, California, Michigan and Florida. The powwow also is a way to celebrate both the students' shared culture and the differences they bring from their many tribes, student senate president Janice Mendez said.
"We are all Indian. But we all have different languages and traditions," she said. "This represents the values we share."
Among those preparing to dance was Samantha Pretty Weasel. The freshman from Fort Hall, Idaho, was taking part in the jingle dress dance, which required tin-shaped cones be sewn onto her dress.
Next to Pretty Weasel was her 26-year-old cousin Shannan Dayes, who had made the trip from Indianapolis. After hearing much about Haskell and Lawrence, Dayes decided to visit.
"I dance whenever I can," she said.
Saturday's event brought out members from the community. Among them was Darrell Frank and his niece, Krysallin Ahtone.
Frank graduated from Haskell last year and was preparing for the men's northern traditional dance, a dance that imitates the movements of hunters and warriors. Ahtone, a sophomore at Free State, was going to do the Teen's Fancy Shawl dance, a fast-paced dance that has her feeling like she could "fall over and pass out" within minutes, she said.
With more than 1,000 students enrolled this semester, Frank thought the school year was getting off to a good start.
"It's a great time to have that," he said.
Copyright 2018 The Lawrence Journal-World. All rights reserved. This material may not be published, broadcast, rewritten or redistributed. We strive to uphold our values for every story published.