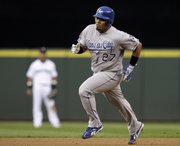 Seattle — Yuniesky Betancourt hit one of the Royals' four home runs in his return to Seattle and Kansas City powered past the Mariners, 8-4, Thursday night.
Brayan Pena, Alberto Callaspo and David DeJesus also homered for the Royals in their first four-homer game this season. The last time they hit four was May 23, 2007, against Cleveland.
It was enough support for Kyle Davies (5-9), who went six innings to earn the victory. He allowed five hits and two runs, walking three and striking out five.
Jamey Wright allowed one hit over his two innings. And Bruce Chen gave up a two-run home run to Jack Wilson in the ninth. It was Wilson's first with the Mariners and first the American League.
Doug Fister (1-1) worked six innings for the Mariners, allowing five runs on five hits. He walked one and struck out five.
Pena's home run, his fifth, was one of the shortest ever at 10-year-old Safeco Field, just 331 feet. Callaspo drew a one-out walk and Mark Teahan forced him at second. But Teahan hustled to avoid the double play and kept the inning alive for Pena. His ball barely cleared the right-field wall at the foul pole, the park's shortest point.
In the fifth, Betancourt, who was traded by the Mariners to the Royals on July 10, hit his third with the Royals, deep into the left-field bullpen.
Copyright 2018 The Associated Press. All rights reserved. This material may not be published, broadcast, rewritten or redistributed. We strive to uphold our values for every story published.