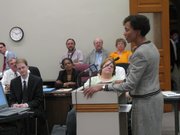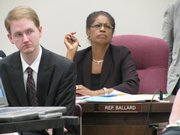 Related document

Report on unencumbered fund balances in state government ( .PDF )
Topeka — The state's top prison official Monday told lawmakers that budget cuts have already endangered the public, and further cuts could force the early release of inmates.
Kansas Secretary of Corrections Roger Werholtz also told the House Appropriations Committee that the state inmate population of 8,020 was just 103 beds below the system's capacity.
State budget cuts have forced Corrections to shut down much of its drug and alcohol treatment, sex offender treatment, education and transitional housing programs, in addition to several facilities, Werholtz said.
Over the past few years, those programs have helped Kansas reduce the number of reoffenders, as well as parole and probation revocations.
"I project that all those performance figures will be worse," Werholtz said. Without these programs, many released inmates will end up homeless and commit new offenses, he said.
Corrections has already sustained cuts of $23.5 million, or about 8 percent of the agency's budget, during the current budget crisis.
Any further cuts and the agency would have to shut down the Winfield Correctional Facility, cut victims services and further reduce parole operations, Werholtz said.
Prison staffing is already at dangerously low levels at times, he said.
"Our facilities are less safe because we are holding positions open," he said.
He said lawmakers would face the politically dangerous possibility of having to release inmates early from prison or parole supervision.
House Appropriations Chairman Kevin Yoder, R-Overland Park, said he doesn't believe Corrections should be cut any more.
But he and other Republican leaders have vowed not to raise taxes in the face of a projected budget deficit that is estimated to be between $400 million and $500 million.
The Legislature and Gov. Mark Parkinson have already implemented four rounds of budget cuts this year, and agencies are complaining that further cuts would decimate their operations.
Representatives of social services, health and higher education appeared before the Appropriations panel on Monday. School officials were due to give presentations today.
Yoder said additional state budget cuts will be necessary, and that he and other budget writers are trying to find out the impact of previous budget cuts and where future cuts can be made that produce the least amount of harm.
"No one is suggesting a tax increase," he said.
Earlier Monday, a report that says the state has billions of dollars in "unencumbered funds" that could be given back to taxpayers or used to fill in budget holes was greeted with skepticism by several lawmakers.
But others said the report by the Flint Hills Center for Public Policy was helpful.
The report says there is about $2 billion in unencumbered funds in cash balances that state agencies have essentially stashed away.
But Gov. Mark Parkinson's administration says that just isn't the case, and while the funds may be considered unencumbered, they are dedicated for specific purposes throughout the fiscal year.
"It's more complicated than it might appear at first blush," Parkinson said. For instance, the unemployment trust fund had several hundred million dollars in it at the start of the fiscal year, but that money has been drawn down to pay unemployment compensation claims, he said.
Rep. Barbara Ballard, D-Lawrence and a member of the Appropriations Committee, said after the Flint Hills presentation, "I really am skeptical."
But state Rep. Kasha Kelley, R-Arkansas City, said the report was useful in that it looked at something in a new way.
"Business as usual is not going to get us out of this mess," she said.
David Trabert, president of the Flint Hills group, also said schools statewide have more than $1 billion in cash balances. But education officials have said that money is needed to make payments on services.
Copyright 2018 The Lawrence Journal-World. All rights reserved. This material may not be published, broadcast, rewritten or redistributed. We strive to uphold our values for every story published.