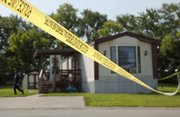 Lawrence police released little information Monday about the circumstances surrounding a double shooting at a Lawrence mobile home park that left two people hospitalized with life-threatening gunshot wounds.
The shooting victims, who were not identified by police, were transported to a Kansas City-area hospital by air ambulance after the shooting, which occurred about 11:40 p.m. Sunday at the Easy Living Mobile Home Park, 3323 Iowa.
Police on Monday afternoon said they were questioning a person "who may be directly involved in the incident" but who was not considered a suspect.
Officers did not release any information about what motivated the shootings, whether either victim participated in the shootings or whether there were any suspects they were looking for.
"We don't want to release information that down the line may hurt the investigation," said Sgt. Bill Cory, police spokesman.
Cory said no arrests had been made in the case and that multiple detectives and patrol officers had been assigned to the investigation, which kept them at the mobile home park into the day Monday. Police were also investigating inside of a mobile home.
Two air ambulances were requested at 11:53 p.m. Sunday to transport the shooting victims to a Kansas City, Kan., hospital. Each helicopter picked up one patient in the parking lot of Super Target, 3201 Iowa. The first helicopter arrived on scene shortly after midnight, and the second helicopter left the area at 12:52 a.m.
An update on the victims' conditions was not available late Monday. Police said releasing any information about the victims could jeopardize their investigation.
Cory said he did not know when more details about the shootings would be released.
Anyone with information on the shooting is asked to call Lawrence Police at (785) 832-7509 or the TIPS hot line at (785) 843-TIPS.
Copyright 2018 The Lawrence Journal-World. All rights reserved. This material may not be published, broadcast, rewritten or redistributed. We strive to uphold our values for every story published.