Photo Gallery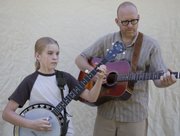 29th annual Kansas State Fiddling and Picking Championships
29th annual Kansas State Fiddling and Picking Championships in South Park.
The sweet strains of bluegrass music wafted over downtown Lawrence on Sunday afternoon at the 29th Kansas State Fiddling and Picking Championships.
The annual event did some fine tuning this year.
"This is the first year we've had separate junior and senior fiddle competitions," said coordinator Gayle Sigurdson. "This is the first year we've been an official Hawk Week event."
The nine competitive events encompassed almost all possible acoustic musicians. "We've had saxophones, flutes," said Sigurdson. "Not your traditional bluegrass instruments."
While a few things have been tweaked, the feeling was the same for the players.
"I love to hear the different fiddlers," said Cindy Novelo, a Vinland resident who plays the fiddle and the viola. "But it's also a great place to jam. It's a good community event."
Novelo is classically trained on the viola, but bluegrass gives her a chance to perform without the pressure.
"I wanted to do something that was just about sharing music, and playing folk music is not so uptight," Novelo said.
Lawrence mandolin player Mike Black walked up to a group of musicians and brought out his instrument simply because he knew the song.
"You get to earn your Lawrence merit badge by coming here," Black said. "(Bluegrass music is) like an old feeling, old roots. I can't explain it. I wish I could."
But it's not always traditional. Lawrence teen Seth Brooks brought out his djembe, an African hand drum.
"Celtic music has such a nice beat to it," said Brooks. "I didn't have any formal teaching. I just learned how to play."
Sigurdson said for next year's competition, which will be the 30th, organizers are planning three days of events, including more workshops.
The state fiddling and picking competition is held on the fourth Sunday each August.
Copyright 2017 The Lawrence Journal-World. All rights reserved. This material may not be published, broadcast, rewritten or redistributed. We strive to uphold our values for every story published.