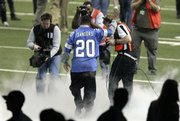 Chicago — As a pre-eminent NFL running back, Barry Sanders made on-field decisions at the blink of an eye eluding tacklers as if buttons on a video game were determining his direction.
Ten years ago last month, Sanders stunned the NFL world when he decided to retire while healthy at the age of 30, and on the verge of breaking one of the game's most cherished records — the all-time career rushing mark of Bears Hall of Famer Walter Payton.
Sanders made his retirement public by faxing a letter to the Wichita Eagle, his hometown newspaper, in July 1999. A few months later, Payton died from the complications of liver cancer.
"What was going through my mind was that it was time to move on," Sanders said last week when asked why in the world he would walk away from the game he dominated. "I didn't have enough reasons to stay and continue to play. I had lost the desire to play. But I was very well aware of the record."
Sanders, who has been every bit as elusive from the media spotlight since retiring, rushed for 15,269 yards and scored 109 touchdowns in 10 seasons.
"Once you get on the field, your natural ability comes out. But some of the things you do are conscious. You might say, 'Hey, Reggie White is coming at me over here,"' said Sanders with a laugh.
Sanders, who is scheduled to be honored at the "Gale Sayers Evening With The Stars" gala Aug. 29 at the White Eagle in Niles, Ill., often was compared to the "Kansas Comet" when it came to making sharp cuts on the football field. Sanders won the Heisman Trophy following his junior season at Oklahoma State before turning pro. He was the No. 3 overall pick of the Lions in the 1989 draft.
"He used the whole field and he had so much quickness," said Sayers, as if describing his own running style. "He could stop on a dime. He was tremendous. He could have gotten 20,000 yards in his career."
In the '90s, Sanders seemed to make a point of embarrassing some otherwise respectable Bears defenses.
"There were a number of things that I used for motivation playing against the Bears," Sanders said. "From just the division rivalry aspect, to the defenses, to just the crowd and playing a game in Soldier Field … they were very lively, energetic fans. And the history of the Chicago Bears … sometimes when I played, Walter Payton was actually there in the stands. Gale Sayers might have been in the stands. Hey, Michael Jordan was even there once."
Emmitt Smith would break Payton's rushing record as a member of the Dallas Cowboys in 2002, finishing his career with 18,355 yards.
Sanders says he has no regrets about his decision to cut his career short.
"I am very fortunate that I was able to leave in that way. I don't have any regrets," he said. "It was the right time. It had kind of built up for maybe a couple of years."
The futility of the Lions certainly took its toll on Detroit's best player.
The Lions never reached the Super Bowl during Sanders' career. He amassed 1,855 yards rushing and receiving during the 1991 season as he scored 17 touchdowns and Detroit finished 12-4. After defeating the Dallas Cowboys, 38-6, in the divisional playoffs, the Washington Redskins routed them, 41-10, for the NFC Championship.
"I played for 10 years and I had lost enough of a desire to play. That was based on my experience playing for the Lions," Sanders said. "I can't say for sure if I had played somewhere else. ... I had really good feelings about the fact I had a great career. There was not a whole lot I could complain about."
Sanders' decision to quit reminded long-time NFL fans of the choice Hall of Fame running back Jim Brown made when he quit the Cleveland Browns after nine remarkable seasons to pursue a career in acting.
"I still grapple with why Jim Brown did that … maybe he had a lot more options," said Sanders. "I look at the broader perspective. People change jobs and professions all of the time. Sometimes people lose interest to do something, to teach or to practice law or to coach, or being a mechanic."
Then Sanders paused and added: "Had we won a couple of Super Bowls, it probably would have been a different experience for me. But I don't know that for a fact."
Sanders made the Pro Bowl in each of his 10 seasons. He was NFL Rookie of the Year in '89 and was named to the 1990s NFL All-Decade team.
"I haven't replaced the competition, but I think I certainly have a lot of great things I am a part of now," Sanders said. "I am still doing some business with some companies for marketing purposes ... And I have four sons who are 15, 8, 5 and 2."
Sanders lives in Bloomfield, Mich., and keeps an eye on the Lions, who became the first NFL team to finish a season 0-16 last year.
"It is definitely disappointing. Hey, man, it's a competitive league," he said. "For most of the fans and most of the people looking at the Lions' situation, we try to look on the positive side. With a couple of bounces, we could have won a couple of games. But sometimes it's good to have a long way to go. It's a good reminder when trying to get things done."
Copyright 2017 The Lawrence Journal-World. All rights reserved. This material may not be published, broadcast, rewritten or redistributed. We strive to uphold our values for every story published.